Zinc + Histidine + Vitamin C - 180 Capsules - bulk pack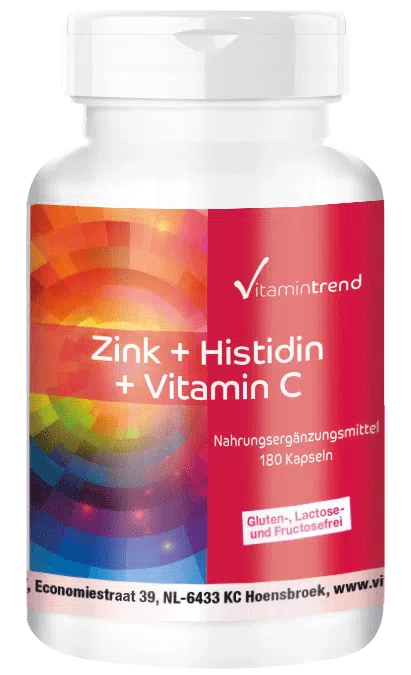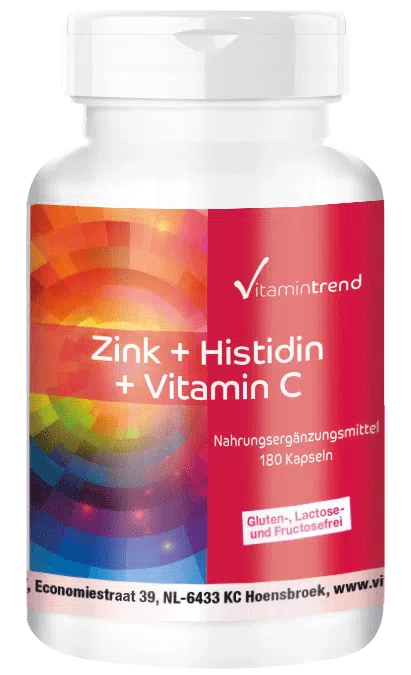 €17.95*
Content:
125
(€143.60* / 1000 g)
Product information "Zinc + Histidine + Vitamin C - 180 Capsules - bulk pack"
Zinc capsules with vitamin C and L-histidine
This food supplement by Vitamintrend provides you with high-dose vitamin C, zinc, and the amino acid histidine.
One capsule contains 300mg vitamin C, 10mg zinc, and 100mg histidine. Vitamin C is available in the form of calcium ascorbate, which is easy on the stomach, and zinc is available in the form of bioavailable zinc citrate.
Zinc and vitamin C for the immune system
The trace elements zinc and vitamin C are the most popular micronutrients when it comes to supporting the immune system. For good reason: It has been scientifically proven in numerous studies that these two nutrients support the function of the immune system.
It is now known that zinc is a component or co-factor of more than 200 enzymes and proteins. In the immune system, the so-called scavenger cells (called macrophages or leukocytes), T-helper cells, T-killer cells, and NK cells (natural killer cells) depend on a good supply of zinc. In addition, zinc ensures that antibodies are released into the blood. The immune system can therefore only do its important work if there is sufficient zinc available in the organism.
Like zinc, vitamin C (scientific name: L-ascorbic acid) supports both the cellular immune response (T-killer cells) and the humoral immune response (antibodies).
Important cell protection
Besides the function of the immune system, zinc and vitamin C also support cell protection by neutralizing free radicals before they can cause damage to the cells.
Free radicals are produced in manageable quantities during metabolism and can be beneficial to immune function. However, if there is an excess of free radicals, it is called oxidative stress. It is triggered by various factors, including smoking, high-performance sports, and harmful substances. Antioxidants such as vitamin C and zinc can help to neutralize free radicals and thus protect cells.
Histidine: An interesting amino acid
L-histidine is a proteinogenic and semi-essential amino acid. In the organism, it is involved in the formation of endogenous proteins, e.g. structural proteins like collagen or functional proteins like enzymes or immune proteins.
Histidine is semi-essential because the organism is able to produce small amounts itself. However, if there is an increased need, it may be advisable to prefer foods rich in histidine or to take food supplements.
In addition, histidine is the starting substance of various other amino acids and of histamine, which is involved in the function of the immune system and the defense against foreign substances.
Vitamin C capsules with zinc and histidine
useful combination
supports the immune system
promotes cell protection
highly dosed
contains zinc citrate and buffered vitamin C
small capsules, easy to swallow
bulk pack for 6 months
vegetarian and vegan
gluten-free, lactose-free, fructose-free
without magnesium stearate and silicon dioxide
| Inhalt / Supplement Facts / Contenu / Información Nutricional / Contenuto | Pro Kapsel / per Capsule / par Gélule / por Cápsula / per Capsula | %NRV* / %VNR* / %VRN* /%VNR* |
| --- | --- | --- |
| Vitamin C / Vitamine C / Vitamina C | 300mg | 375 |
| Zink / Zinc / Zinco | 10mg | 100 |
| L-Histidin / L-Histidine / L-Histidina / L-Istidina | 100mg | - |
| L-Leucin / L-Leucine / L-Leucina | 30mg | - |
Content: 180 capsules
Recommended intake: Adults 1 capsule daily with a meal and plenty of water.
Not suitable for pregnant and breastfeeding women.
One capsule contains / NRV*:
Vitamin C 300mg / 375%
Zinc 10mg / 100%
L-histidine 100mg
L-leucine 30mg
*NRV: Nutrient reference values according to Regulation (EU) No 1169/2011
Ingredients: calcium-L-ascorbate (contains 82.6% vitamin C), L-histidine, glazing agent hydroxypropylmethylcellulose (capsule shell), bulking agent microcrystalline cellulose, zinc citrate (contain 31.8% zinc), L-leucine, rice extract blend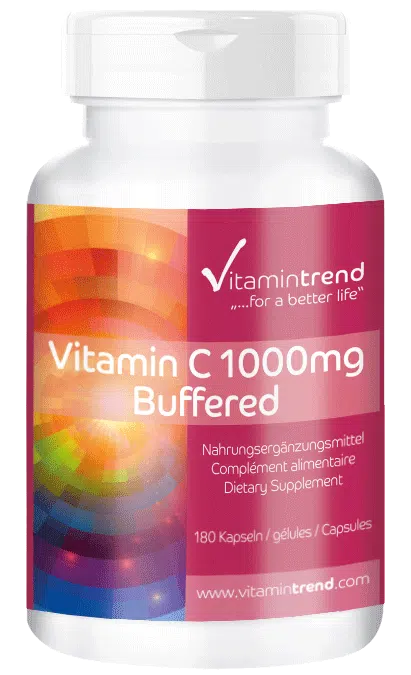 4033180
Vitamin C 1000mg Buffered 180 Capsules Vegan
Vitamin C in ascorbate form is gentler on the stomach and easier to absorb Research on the pharmacological effects of mineral ascorbates has shown that absorption is twice faster than when vitamin C is administered in the form of ascorbic acid. Vitamin C is an important water-soluble antioxidant in our body. It occurs in blood, body fluids and all cells, where it oxidises itself slightly to protect cells from free radical oxidation. The body needs vitamin C so it can restore tissue and is protected from environmental influences. As a radical catcher, it neutralises harmful oxygen radicals in particular. Because of its contribution to collagen synthesis, vitamin C has become a hot tip for firm connective tissue. can address the immune system for firm skin in the usual problem zones high dosage of 1000mg per portion easy to absorb and gentle on the stomach gluten-free, lactose-free, fructose-free, vegi bulk pack for half a year Inhalt / Supplement Facts / Contenu / Información Nutricional / Contenuto / Inhoudpro Kapsel / per Capsule / par Gélule / por Cápsula / per Capsula / per Capsule%NRV* / %VNR* / %VRN* / %VNR* / %VRW* Vitamin C / Vitamine C / Vitamina C 1000mg 1250 Content: 180 capsules Recommended intake: Adults 1 capsule daily with a meal and plenty of water. One capsule contains / NRV*: Vitamin C 1000mg / 1250% * NRV: Nutrient reference values as per EU regulation Ingredients: Calcium ascorbate, glazing agent hydroxypropylmethylcellulose (capsule shell), anti-caking agent magnesium salts from fatty acids
Content: 241 g (€86.93* / 1 Kg)
Qty : 180 Kapseln
4120180
L-Histidine 500mg - highly dosed - vegan - 180 capsules - bulk pack
What is L-histidine? It is a semi-essential amino acid. Semi-essential, because the body is able to produce small amounts itself. An intake via food is however highly recommended. As a proteinogenic amino acid, it is involved in the formation of proteins. In addition, it belongs to the basic amino acids, along with L-arginine and L-lysine. Histidine in foods Histidine is found in both animal and plant foods. Particularly high contents are found in meat (beef, poultry), fish (salmon, tuna), pulses, milk and wheat germ.In food, histidine is always present bound as a component of proteins. Buy L-histidine capsules by Vitamintrend highly dosed with 500mg per capsule semi-essential amino acid gluten-free, lactose-free, fructose-free vegetarian and vegan without magnesium stearate and silicon dioxide Inhalt / Supplement Facts / Contenu / Información Nutricional / Contenutopro 2 Kapseln / per 2 Capsules / pour 2 Gélules / por 2 Cápsulas / per 2 Capsule L-Histidin / L-Histidine / L-Histidina / L-Istidina 1000mg Content: 180 capsulesRecommended intake: Adults 2 capsules daily on an empty stomach with plenty of water.Not suitable for pregnant and breastfeeding women.Two capsules contain:L-histidine 1000mgIngredients: L-histidine, bulking agent microcrystalline cellulose, glazing agent hydroxypropylmethylcellulose (capsule shell), L-leucine
Content: 138 g (€238.77* / 1 Kg)
Qty : 180 Kapseln