Zinc 15mg as zinc picolinate 180 Tablets Organic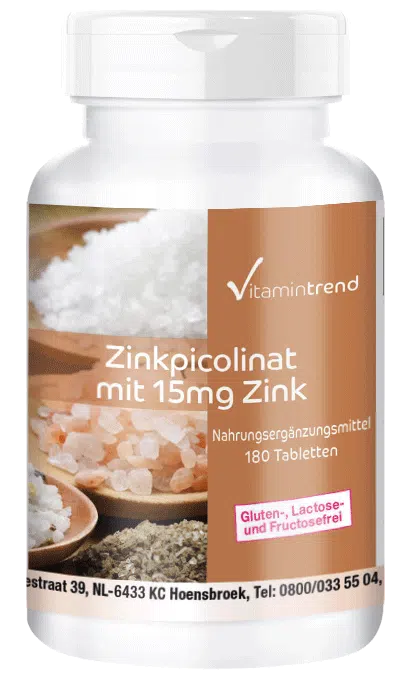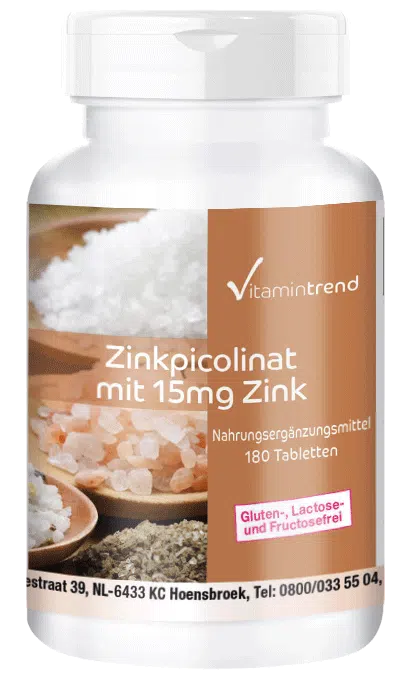 €12.95*
Content:
63
(€205.56* / 1000 g)
Product information "Zinc 15mg as zinc picolinate 180 Tablets Organic"
Bound to picolinic acid, zinc is well absorbed and quickly reaches the place where it is needed in the body.
Zinc is an essential trace element and is a central component of more than 300 specific enzymes. After iron, it is the most abundant metal in the organism.
Zinc is found in the body mainly in the hair, muscles, bones, testicles and ovaries as well as in the islet cells of the pancreas. The highest concentrations of trace elements are found in the prostate and parts of the eye.
In athletic circles, zinc is part of the basic supply in addition to multivitamins. Also particularly for the muscle structure the trace element can exhibit a set of desirable characteristics. But not only sportsmen profit from zinc. It can address the immune system, support skin, hair and nails, ensure healthy cell division and support fertility and reproduction.
contributes to normal immune function
is necessary for the maintenance of skin, hair and nail structures
has a function in cell division
can support fertility
good absorption due to picolinate form
small tablets, easy to swallow
gluten-free, lactose-free, fructose-free, vegan
bulk pack for half a year
without magnesium stearate and silicon dioxide
| Inhalt / Supplement Facts / Contenu / Información Nutricional / Contenuto / Inhoud | pro Tablette / per Tablet / par Comprimé / por Comprimido / per Compressa / per Tablet | %NRV* / %VNR* / %VRN* / %VNR* / %VRW* |
| --- | --- | --- |
| Zink / Zinc / Zinco / Zink | 15mg | 150 |
Content: 180 tablets
Recommended intake: Adults 1 tablet daily with plenty of water.
Not suitable for pregnant and breastfeeding women.
One tablet contains / NRV*:
Zinc 15mg / 150%
NRV: nutrient reference values according to Regulation (EU) No 1169/2011
Ingredients: bulking agent microcrystalline cellulose, zinc picolinate (contains 22% zinc)


Made in Germany