Vitamin B12 Complex - 180 Capsules Vegan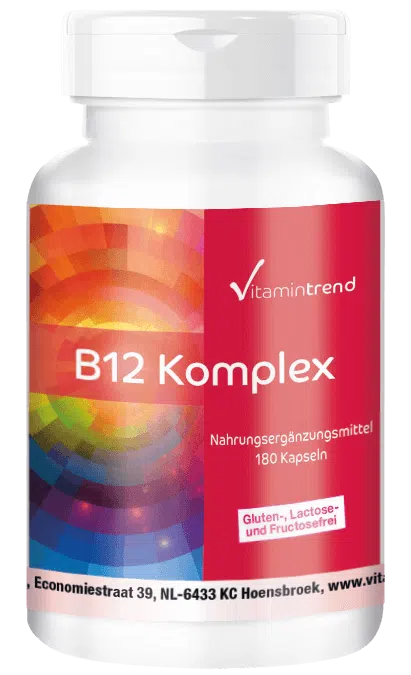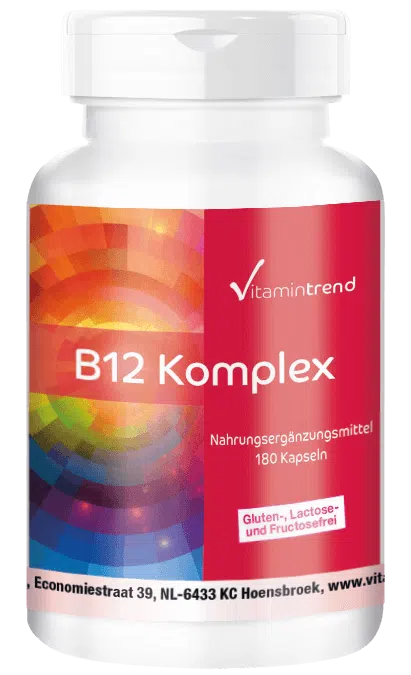 €18.95*
Content:
57
(€332.46* / 1000 g)
Product information "Vitamin B12 Complex - 180 Capsules Vegan"
High-dose vitamin B12
High doses of vitamin B12 are essential, especially for vegetarians, vegans and people with stomach disorders, to correct or prevent B12 deficiency.
This Vitamintrend supplement contains 1000μg vitamin B12 per capsule in the form of the 3 bioactive B12 compounds methylcobalamin, adenosylcobalamin and hydroxycobalamin. One capsule a day is sufficient to cover your B12 needs and replenish your stores.
Different forms of vitamin B12
Vitamin B12 or cobalamin can be present in four different forms: methylcobalamin, adenosylcobalamin, hydroxycobalamin and cyanocobalamin.
While methylcobalamin and adenosylcobalamin are the two active forms of vitamin B12, hydroxycobalamin can be easily converted by the body into the other two forms.
Cyanocobalamin is synthetic vitamin B12 that is not bioactive. In order for the organism to be able to use it, it must first be converted into a bioactive form in four steps. However, the advantage of cyanocobalamin is that it is a very stable form of the vitamin and is easier to absorb. Nevertheless, the bioactive forms are preferable, as they do not depend on prior conversion.
B12 Deficiency
A vitamin B12 deficiency can occur for three reasons: insufficient intake, increased use or utilisation problems.
A lack of intake is often seen in vegans, vegetarians or people with an unbalanced nutrition. This is because vitamin B12 is found primarily in animal foods and only in small amounts in plant foods.
Increased consumption occurs mainly during pregnancy and breastfeeding, but stress, illness and oxidative stress can also increase the use of B12 and drain the body's stores, especially if not enough vitamin B12 is supplied through food or supplements.
Vitamin B12 intake depends on the so-called intrinsic factor, which is a special transport molecule that transports the vitamin to the intestinal mucosa where it is absorbed. The intrinsic factor is produced in the cells in the lining of the stomach, so it is likely that stomach diseases such as gastritis or infection with Helicobacter pylori can lead to a vitamin B12 deficiency.
It is also possible that people who are elderly or who have Crohn's disease or liver damage might have difficulty absorbing vitamin B12.
Taking high doses of vitamin B12 can avoid the need for the intrinsic factor. At doses of 500μg and above, cobalamin is also absorbed via passive diffusion in the intestine.
Vitamin for the nervous system
Most people know vitamin B12 as the vitamin for red blood cell production or for normal homocysteine levels. However, cobalamin also plays an important role in the nervous system and psyche. It protects the nerves and is needed for the synthesis of essential messenger substances.
Furthermore, B12 is a component of energy metabolism and ensures that the macronutrients are optimally utilised. A well-functioning energy metabolism can reduce tiredness and fatigue.
Vitamin B12 in food
As mentioned above, cobalamin is primarily found in animal-based foods. Methylcobalamin is most commonly found in milk and dairy products, while adenosylcobalamin and hydroxycobalamin are mainly found in meat.
The best B12 sources include cheese, liver and fish such as mackerel and herring.
Traces of vitamin B12 are found in sauerkraut, fermented soy products, mushrooms and root vegetables. However, these are not sufficient to cover daily requirements or to fill the B12 stores.
Vitamin B12 supplement by Vitamintrend
highly dosed
1000μg vitamin B12 per capsule
bioactive forms for excellent bioavailability
methylcobalamin, adenosylcobalamin, hydroxycobalamin
for tiredness
for a normal homocysteine level
important for the nervous system
tip for vegetarians and vegans
small capsules, easy to swallow
bulk pack for 6 months
vegetarian and vegan
gluten-free, lactose-free, fructose-free
without magnesium stearate and silicon dioxide
| Inhalt / Supplement Facts / Contenu / Información Nutricional / Contenuto | pro Kapsel / per Capsule / par Gélule / por Cápsula / per Capsula / per Capsula / per Capsule | %NRV* / %VNR* / %VRN* /%VNR* |
| --- | --- | --- |
| Vitamin B-12 / Vitamine B-12 / Vitamina B-12 | 1000μg | 40.000 |
| davon Methylcobalamin / of which Methylcobalamin / dont Méthylcobalamine / de los cuales Metilcobalamina / di cui Metilcobalamina / waarvan Methylcobalamine | 333μg | - |
| davon Adenosylcobalamin / of which Adenosylcobalamine / dont Adénosylcobalamine / de los cuales Adenosilcobalamina / di cui Adenosilcobalamina / waarvan Adenosylcobalamine | 333μg | - |
| davon Hydroxycobalamin / of which Hydroxocobalamin / dont Hydroxocobalamine / de los cuales Hidroxocobalamina / di cui Idroxocobalamina / waarvan Hydroxocobalamine | 333μg | - |
| L-Leucin / L-Leucine /L-Leucina | 20mg | - |
Content: 180 Capsules
Recommended intake: Adults 1 capsule daily with a meal and plenty of water.
Not suitable for pregnant and breastfeeding women.
One capsule contains / NRV*:
Vitamin B12 1000μg / 40000%
of which methylcobalamin 333μg
of which adenosylcobalamin 333μg
of which hydroxycobalamin 333μg
L-Leucin 20mg
* NRV: Nutrient reference values according to Regulation (EU) No 1169/2011
Ingredients: bulking agent microcrystalline cellulose, glazing agent hydroxypropylmethylcellulose (capsule shell), L-leucine, methylcobalamin, adenosylcobalamin, hydroxycobalamin