Selenite 50μg 180 Tablets Vegan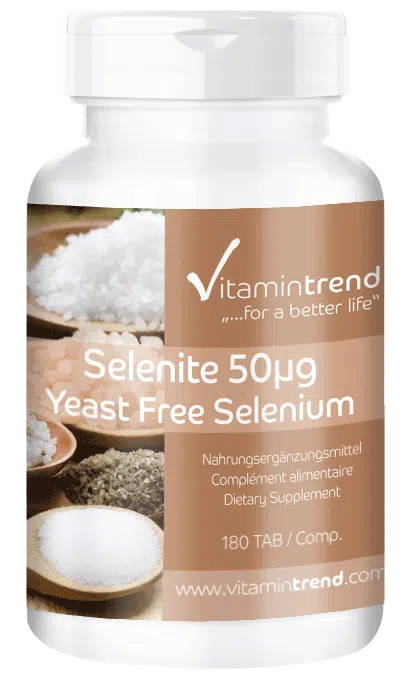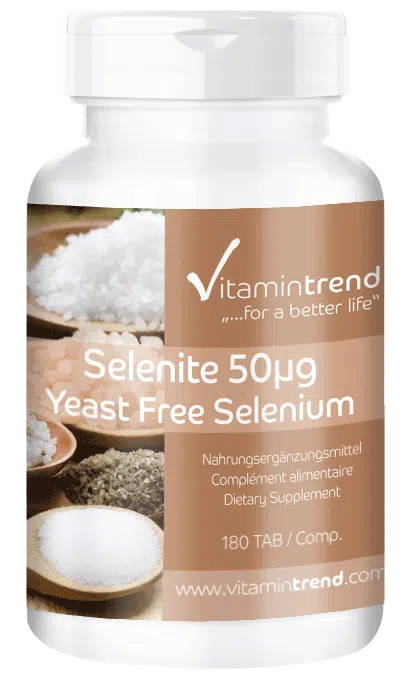 €9.95*
Content:
54
(€184.26* / 1000 g)
Product information "Selenite 50μg 180 Tablets Vegan"
Selenite (inorganic selenium) is faster available to the body than organic selenium.
Organically and inorganically bound selenium act differently in the organism. Selenite consists of selenium which is bound to sodium (sodium selenite, Na2SeO3). It belongs to the inorganically bound selenium and is directly available to the body for building up the selenium compounds. Organic selenium, on the other hand, such as selenium yeast, is initially built unspecifically into a wide variety of proteins and is not used directly to build up the protein substances that selenium absolutely needs.
Another advantage is that inorganic selenium is built into the enzymes faster than organic selenium.
Excess selenite is simply excreted by the body, while organic selenium remains stored in the body. This can have unfavourable effects with high dosage and continuous intake of organic selenium. For the compensation of a selenium deficiency, inorganically bound selenium in the form of sodium selenite is therefore more effective and above all safer than organically bound selenium.
Selenium is an essential trace element with a multitude of functions in the immune system, in sperm formation and thyroid function. Due to the geographically varying selenium content of the soils, the selenium concentration of plant foods is subject to large regional fluctuations. In large parts of Central and Northern Europe, soils are extremely poor in selenium, which is why in Germany vegetable selenium sources contribute only marginally to the selenium supply.
faster available than organic selenium
22.8μg elemental content (45.6%)
can activate the immune system
small tablets, easy to swallow
gluten-free, lactose-free, fructose-free, vegan
bulk pack for half a year
Note: Selenite should be taken with a time interval of 1-2 hours to vitamin C, since it is converted by vitamin C into a form not usable for the organism. This also applies to fruit juices.
| Inhalt / Supplement Facts / Contenu / Información Nutricional / Contenuto | pro Tablette / per Tablet / par Comprimé / por Comprimido / per Compressa / per Tablet | %NRV* / %VNR* / %VRN* / %VNR* / %VRW* |
| --- | --- | --- |
| Selen / Selenium / Sélénium / Selenio / Selenio / Selenium | 50μg | 90 |
Content: 180 tablets
Recommended intake: Adults 1 tablet daily with plenty of water.
One tablet contains / NRV*:
Selenite 50μg / 90%
* NRV: Nutrient reference values as per EU regulation
Ingredients: bulking agent microcrystalline cellulose, sodium selenite