Propolis 1000mg - high-dose - 180 Tablets - bulk pack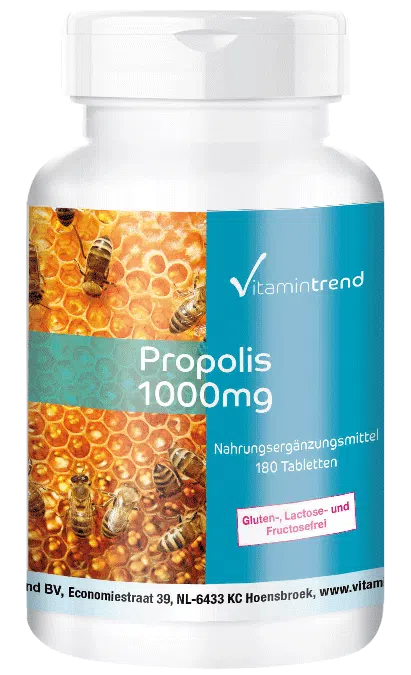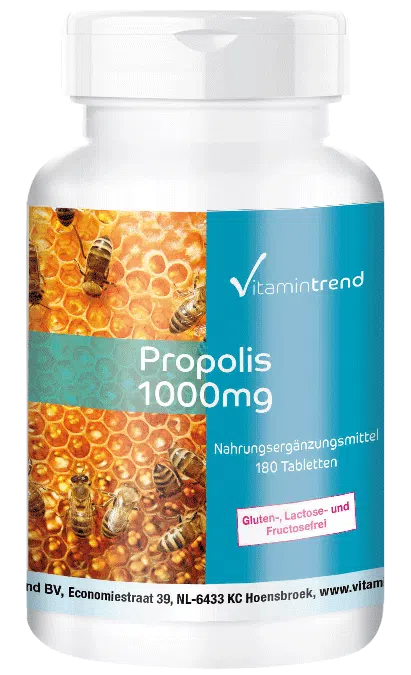 €29.95*
Content:
306
(€97.88* / 1000 g)
Product information "Propolis 1000mg - high-dose - 180 Tablets - bulk pack"
Propolis by Vitamintrend
Nature holds numerous valuable vital substances in store for people. This includes the bee product propolis. This food supplement provides you with particularly high-dose propolis: each tablet and daily dose contains 1000mg propolis. The extract was standardized to 3% galangin, a special flavonoid, which is equivalent to 30mg galangin per tablet.
As we take great care to avoid unnecessary additives, the propolis tablets contain only the bulking agent microcrystalline cellulose, which is needed to press the tablets.
What is propolisµ
Propolis is also known as bee glue. As the name suggests, it is a resinous mass-produced by bees. Its composition can vary greatly and depends mainly on the collection area, the tree population, and the season.
The bees primarily collect resin from trees, preferring poplars, birches, alders, and chestnut trees. To make the resin more pliable so that it can be better transported and processed, the bees mix the resin with their own secretion. In the beehive it is mixed with beeswax and used for sealing, stabilizing, and disinfecting. Depending on the use, the proportion of wax in the propolis can vary.
The name "propolis" is derived from the Greek words "pro" (Engl.: before) and "polis" (Engl. city). The name refers to the fact that propolis is most commonly found at the flight holes of beehives.
Valuable ingredients of propolis
Unprocessed raw propolis contains about 40-60% resin, 20-30% wax, and 1-8% water. In addition, it contains other vital substances such as fatty acids, polyphenols (including galanin), aromatic acids, amino acids, sugar, vitamins, minerals, trace elements, and flavorings.
There can also be fluctuations in the content of the vital substances. It depends on the season, type of plant, collection region, and the added wax.
Although propolis is generally very well tolerated, people who are allergic to bee or wasp stings should refrain from taking it. Propolis is also not suitable for pregnant and breastfeeding women.
Propolis tablets by Vitamintrend
highly dosed
1000mg propolis per tablet and daily intake
high-quality propolis extract
standardised to 3% galangin
equivalent to 30mg galangin per tablet
bulk pack for 6 months
gluten-free, lactose-free, fructose-free
without magnesium stearate and silicon dioxide
| Inhalt / Supplement Facts / Contenu / Información Nutricional / Contenuto | Pro Tablette / per Tablet / par Comprimé / por Comprimido / per Compressa / per Tablet |
| --- | --- |
| Propolis-Extrakt / Propolis Extract / Extrait de Propolis / Extracto de Propóleo / Estratto di Propoli | 1000mg |
| davon Galangin / of which Galangin / dont Galangine / de los cuales Galangina / di cui Galangina / waarvan Galangine | 30mg |
Content: 180 tablets
Recommended intake: Adults 1 tablet daily with a meal and plenty of water.
Not suitable for pregnant and breastfeeding women.
One tablet contains:
Propolis extract 1000mg
of which galangin 30mg
Ingredients: propolis dry extract (contains 3% galangin), bulking agent microcrystalline cellulose