Panax Ginseng + Vitamin B5 - vegan - 180 Tablets - bulk pack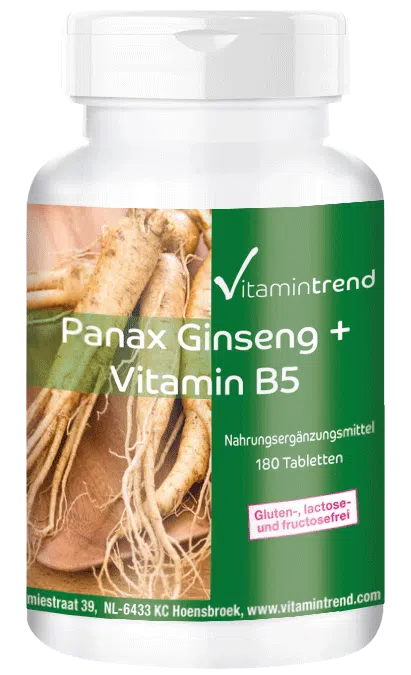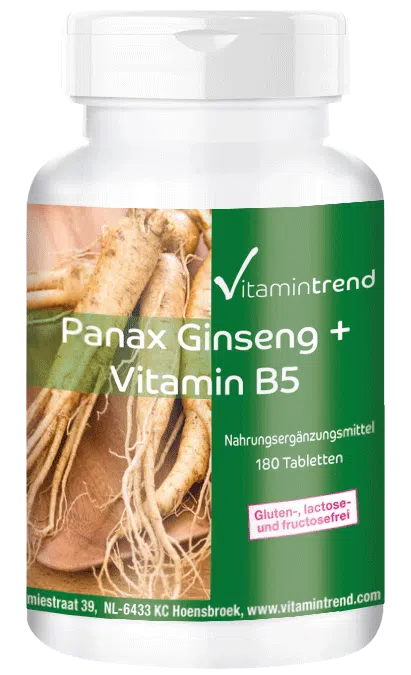 €28.95*
Content:
239
(€121.13* / 1000 g)
Product information "Panax Ginseng + Vitamin B5 - vegan - 180 Tablets - bulk pack"
Red Panax ginseng C.A. Meyer standardized to 20% ginsenosides
Botanically, the red Panax ginseng belongs to the ivy family (Araliaceae). The Asian ginseng or Korean ginseng is mainly native to Siberia, North Korea, and China and is also cultivated in Japan and Ukraine. Ginseng has been discovered and used in TCM for thousands of years. The first records date back to the year 40 BC.
To obtain red ginseng, white ginseng is brewed for several hours and dried immediately after harvesting. During this process, the roots take on a reddish colour.
Panax Ginseng is an adaptogen
Plants referred to as adaptogens are known for their ability to adapt active ingredients to the physical conditions of the user (Latin "adaptare" = "adapt"). For this reason, the properties of such adaptogens are described as normalizing and balancing.
Ingredients of Panax Ginseng
In addition to essential oils, peptidoglycans, and polyacetylenes, ginseng contains the so-called ginsenosides, which belong to the triterpene saponins and are regarded as valuable ingredients of ginseng.
The Panax ginseng extract of Vitamintrend is standardized to 20% ginsenosides.
Panax Ginseng with vitamin B5 for more performance and energy
Pantothenic acid (vitamin B5) is a useful addition to the red Panax ginseng. The EFSA has scientifically established the following functions of the vitamin:
reduction of tiredness and fatigue
support of mental performance
promotion of the energy metabolism
contribution to the synthesis and metabolism of steroid hormones, vitamin D, and some neurotransmitters
Buy Red Panax Ginseng tablets now!
highly dosed
for more performance and energy
usefully combined with vitamin B5
reduces tiredness
vegetarian and vegan
gluten-free, lactose-free, fructose-free
without magnesium stearate and silicon dioxide
| Inhalt / Supplement Facts / Contenu / Información Nutricional / Contenuto | pro Tablette / per Tablet / par Comprimé / por Comprimido / per Compressa / per Tablet | %NRV* / %VNR* / %VRN* /%VNR* |
| --- | --- | --- |
| Pantothensäure / Pantothenic Acid / Acide Pantothénique / Ácido Pantoténico / Acido Pantotenico / Panthotheenzuur | 190mg | 3167 |
| Roter Panax Ginseng Extrakt / Red Panax Ginseng Extract / Extrait de Panax Ginseng Rouge / Extracto de Ginseng Panax Rojo / Estratto di Ginseng Panax Rosso / Rode Panax Ginseng Extract | 600mg | - |
| davon Ginsenoside / of which Ginsenosides / dont Ginsénosides / de los cuales Ginsenósidos / di cui Ginsenosidi / waarvan Ginsenosiden | 120mg | - |
Content: 180 tablets

Recommended intake: Adults 1 tablet daily with a meal and plenty of water.

Not suitable for pregnant and breastfeeding women.

One tablet contains / NRV*:
Pantothenic acid 190mg / 3167%
Red Panax Ginseng extract 600mg
of which ginsenosides 120mg

*NRV: nutrient reference values according to Regulation (EU) No 1169/2011

Ingredients: red Panax ginseng root extract (C.A. Meyer; contains 20% ginsenosides), bulking agent microcrystalline cellulose, calcium-D-pantothenate, cottonseed oil, calcium salts of orthophosphoric acid