Nattokinase 100mg - 120 tablets 2000 FU bulk pack for 4 months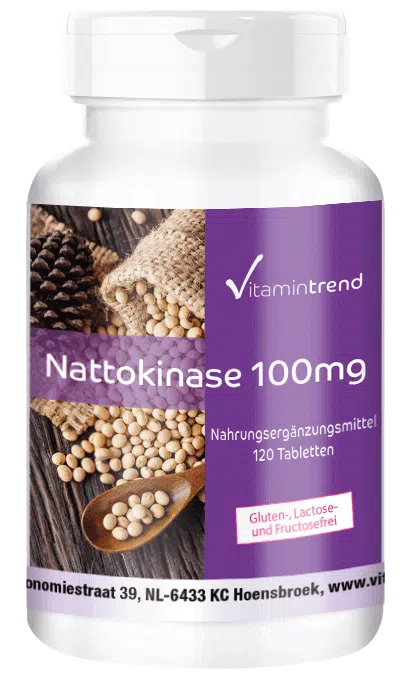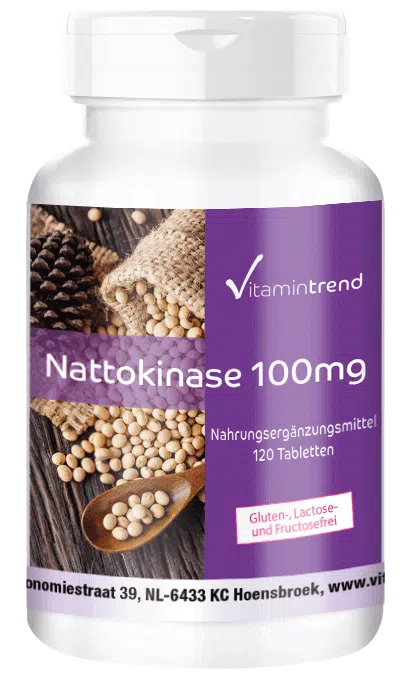 €12.95*
Content:
53
(€244.34* / 1000 g)
Product information "Nattokinase 100mg - 120 tablets 2000 FU bulk pack for 4 months"
Enzyme from Natto
Nattokinase is a powerful enzyme known for its amazing fibrinolytic capacities.
Nattokinase is found in the traditional Japanese dish called Natto. For this dish, unpeeled soybeans are soaked in water and then cooked. They are then mixed with a bacterial culture (Bacillus natto) and fermented (steamed) at 42ᄚC for three to five hours. Fermentation produces the enzyme nattokinase. Natto has been prepared in Japan for over 1000 years.
without magnesium stearate and silicon dioxide
small tablets - easy to swallow
gluten-free, lactose-free, fructose-free
vegetarian and vegan
bulk pack for 4 months
| Inhalt / Supplement Facts / Contenu / Información Nutricional / Contenuto / Inhoud | pro Tablette / per Tablet / par Comprimé / por Comprimido / per Compressa / per Tablet |
| --- | --- |
| Nattokinase (2000 FU*, fibrinolytische Aktivität) / Nattokinase (2000 FU*, fibrinolytic Activity) / Nattokinasa (2000 FU, actividad fibrinolítica) / Nattokinase (2000 FU*, attività fibrinolitica) / Nattokinase (2000 FU, fibrinolytische activiteit) | 100mg |
Content: 120 tablets
Recommended intake: Adults 1 tablet daily with a meal and plenty of water.
Not suitable for pregnant and breastfeeding women.
One tablet contains:
Nattokinase 100mg
(2000 FU, fibrinolytic activity)
*The unit FU (fibrinolytic unit) describes the enzymatic activity to dissolve a blood clot.
Ingredients: bulking agent microcrystalline cellulose, nattokinase (from fermented soy), calcium salts of orthophosphoric acid
Note: Nattokinase is not suitable for persons taking anticoagulants such as the coumarin group (Marcumar, Warfarin).
Nattokinase is contraindicated in all forms of bleeding. If you are about to undergo surgery, please inform your doctor in good time about your intake of nattokinase.