Methyl B12 5000μg 180 tablets, highly dosed, bulk pack for 6 months, methylcobalamin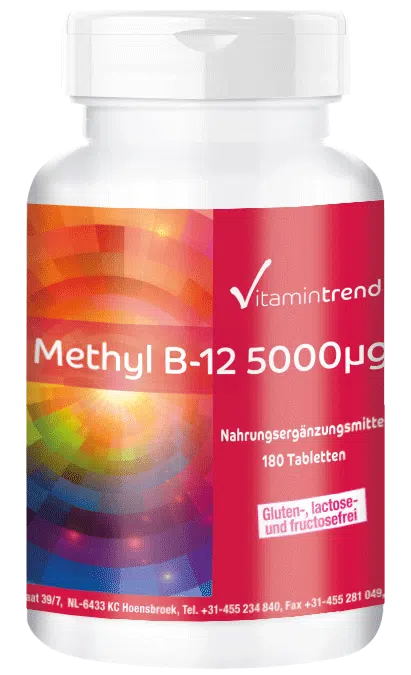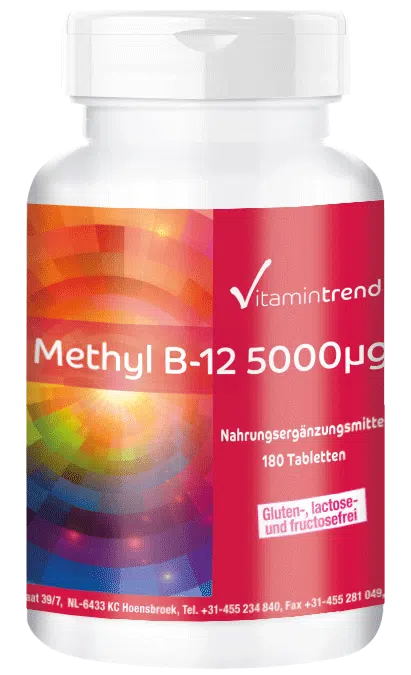 €16.95*
Content:
54
(€313.89* / 1000 g)
Product information "Methyl B12 5000μg 180 tablets, highly dosed, bulk pack for 6 months, methylcobalamin"
Highly dosed for direct absorption via passive diffusion without intrinsic factor
Methylcobalamin is the body identical form of vitamin B12. This makes it physiologically more valuable than cyanocobalamin, for example, which has yet to be converted into methylcobalamin in the body.
Vitamin B12 is necessary for the breakdown of homocysteine into methionine. Homocysteine is a toxic amino acid that is produced during many metabolic processes in the body. By lowering the homocysteine concentration in the blood, vitamin B12 has a protective effect on the cardiovascular system.
Vitamin B12 is required for the activation of the folic acid stores in the tissue. Without B12, folic acid remains inactive.
B12 is essential for normal functioning of the nervous and immune systems.
Among other things, B12 has the following functions in the body:
formation of red blood cells
cell division
psychological and physical well-being
absorption of vitamin folic acid into the cells
conversion of homocysteine to methionine
Low concentrations of B12 are absorbed by the intrinsic factor (special transport protein), higher concentrations by diffusion. The amount of receptors for the intrinsic factor is limited, which is why only about 1.5 μg vitamin B12 can be absorbed per meal in this way. To avoid this, this product is highly dosed so that B12 is absorbed directly via passive diffusion.
without magnesium stearate and silicon dioxide
gluten-free, lactose-free, fructose-free, vegan
bulk pack for half a year
| Inhalt / Supplement Facts / Contenu / Información Nutricional / Contenuto / Inhoud | pro Tablette / per Tablet / por Comprimé / por Comprimido / per Compressa / pro Tablet | %NRV* / %VNR* / %VRN* / %VNR* / %VRW* |
| --- | --- | --- |
| Vitamin B-12 / Vitamine B-12 / Vitamina B-12 | 5000μg | 200.000 |
Content: 180 tablets
Recommended intake: Adults 1 tablet daily with plenty of water.
One tablet contains / NRV*:
vitamin B12 5000μg / 200000%
*NRV: Nutrient reference values according to Regulation (EU) No 1169/2011
Ingredients: bulking agent microcrystalline cellulose, methylcobalamin