Iron complex 25mg - 120 capsules, vegan, bulk pack for 4 months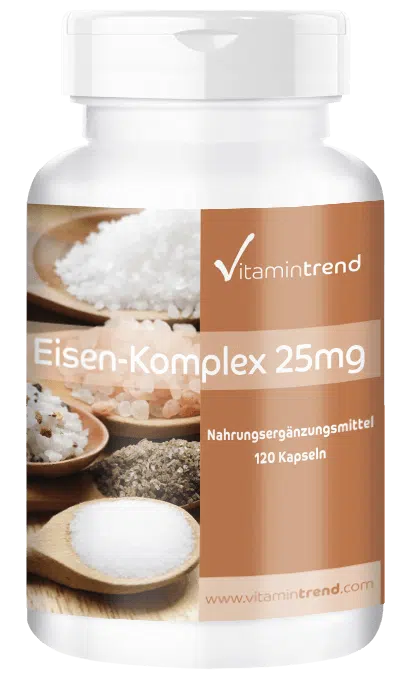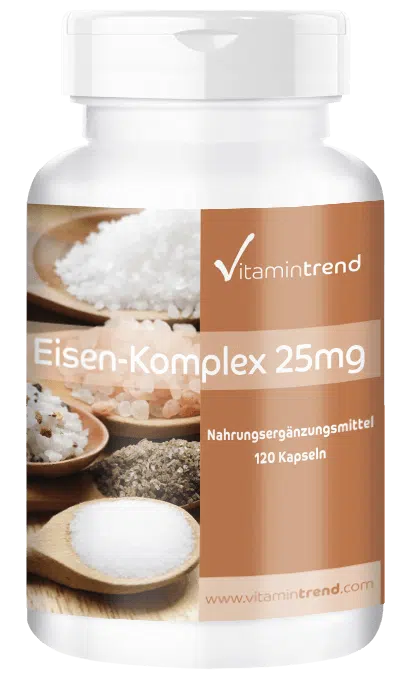 €14.95*
Content:
58
(€257.76* / 1000 g)
Product information "Iron complex 25mg - 120 capsules, vegan, bulk pack for 4 months"
Iron capsules based on ferrous(II) gluconate, ferrous bisglycine sulphate and ferrous bisglycinate
Iron is the second most common trace element in the body. Although the body contains only small amounts, iron plays an important role. The body is not able to synthesise iron itself and is dependent on the supply through food. Iron-rich foods include, for example, green vegetables, whole grain products and red meat.
Functions of iron in the body
Iron contributes to normal energy-yielding metabolism. We need the trace element primarily for the oxygen transport in the body. With the help of iron, the oxygen we absorb through the lungs is bound to the red blood pigment haemoglobin, distributed throughout the body by the blood and used in the cells for the energy production.
Iron for the muscles
Iron contributes to the reduction of fatigue. The myoglobin (haemoglobin for the muscles) in the musculature binds the iron and supplies the muscles with oxygen, so they remain capable and endure stronger loads. The muscles tire more slowly when there is enough iron in the blood and therefore enough oxygen in all muscle cells.
Iron for the brain
Iron contributes to normal cognitive function. Iron is also involved in the oxygen supply of the brain. Furthermore, iron affects neurotransmitters and their signal transmission between the nerve cells. There are different neurotransmitters, including dopamine, which are synthesised by an iron-dependent enzyme.
Why you should buy iron capsules at Vitamintrend
good bioavailability due to the bivalent iron complex consisting of ferrous(II) gluconate, ferrous bisglycinate sulphate and ferrous bisglycinate
contributes to the normal formation of red blood cells and haemoglobin
supports the normal oxygen supply in the body
contributes to the reduction of tiredness and fatigue
supports normal cognitive function
can be of importance for the energy-yielding metabolism
gluten-free, lactose-free, fructose-free, vegan
without magnesium stearate and silicon dioxide
bulk pack for 120 days
| Inhalt / Supplement Facts / Contenu / Información Nutricional / Contenuto | pro Kapsel / per Capsule / par Gélule / por Cápsula / per Capsula / per Capsule | %NRV* / %VNR* / %VRN* /%VNR* / %VRW* |
| --- | --- | --- |
| Vitamin C / Vitamine C / Vitamina C | 25mg | 179 |
| Eisen-(II)-Gluconat / Ferrous(II) Gluconate / Gluconate de Fer (II) / Gluconato de Hierro / Gluconato di Ferro (II) / Ijzer (II) Gluconaat | 7,5mg | 54 |
| Eisen-Bisglycinsulfat / Ferrous Bisglycine Sulphate / Sulfate de Glycine Ferreux / Sulfato de Bisglicinato Ferroso / Solfato di Ferro-a-Glicina / Sulfaat van Ijzer Bisglycinaat | 7,5mg | 54 |
| Eisen-Bisglycinat / Ferrous Bisglycinate / Bisglycinate de Fer / Bisglicinato de Hierro / Bisglicinato di Ferro / Ijzerbisglycinaat | 10mg | 71 |

Content: 120 capsules

Recommended intake: Adults 1 capsule daily with a meal and plenty of water.

One capsule contains / NRV*:
Iron 25mg / 179%
from:
ferrous(II) gluconate 7.5mg / 54%
ferrous bisglycine sulphate 7.5mg / 54%
ferrous bisglycinate 10mg / 71%

*NRV: nutrient reference values as per EU regulation

Ingredients: bulking agent microcrystalline cellulose, glazing agent hydroxypropylmethylcellulose (capsule), ferrous bisglycinate, ferrous(II) gluconate, ferrous bisglycinate sulphate, L-leucine, rice extract blend