Horse chestnut extract 300mg - vegan - 180 Capsules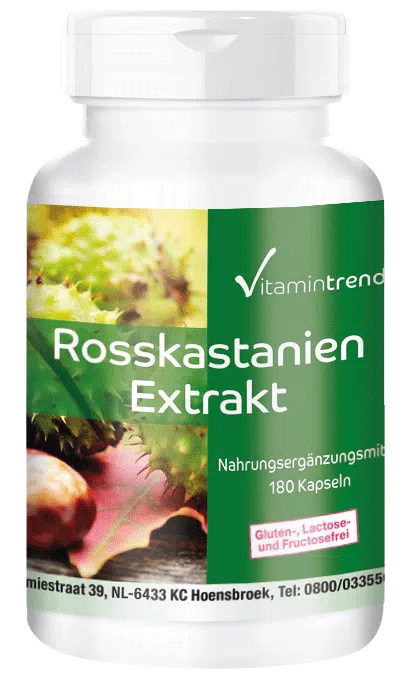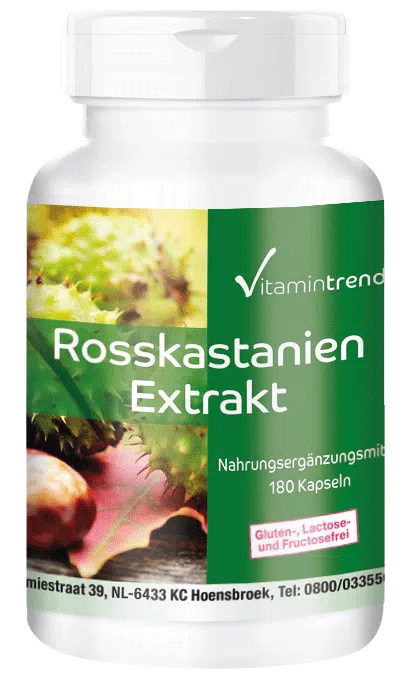 €22.95*
Content:
276
(€83.15* / 1000 g)
Product information "Horse chestnut extract 300mg - vegan - 180 Capsules"
Horse chestnut extract capsules by Vitamintrend
The horse chestnut extract contained in this food supplement has been standardized to a content of 20% aescin, which is equivalent to 180mg aescin per 3 capsules (daily dose).
Horse chestnut
The horse chestnut is part of the soapberry family (Sapindaceae) and the subfamily of the horse chestnuts. The Common Horse Chestnut (Aesculus hippocastanum) is a deciduous tree native to the Balkans and widespread in Central Europe. It is also known under the name conker tree. In 2005 it was voted Tree of the Year in Germany and Medicinal Plant of the Year in 2008.

The horse chestnut got its name from its use as horse feed and was brought to Central Europe by the Ottomans. The first report about the horse chestnut comes from Constantinople in 1557, before the tree was brought to Vienna in 1576. From there the horse chestnut spread rapidly throughout Europe.
Horse chestnut - ingredients
Horse chestnut seeds are rich in natural substances with positive properties. In addition to flavonoids, tannins, essential oil, protein, vitamin C, B vitamins, and minerals, they also contain aescin (escin). This is a mixture of more than 30 different saponins. The largest portion is made up of ß-aescin, which in turn consists of various triterpene sapogenins.
Buy horse chestnut extract at Vitamintrend
highly dosed
300mg horse chestnut seed extract per capsule
standardized to 20% aescin
equivalent to 180mg aescin per daily intake (3 capsules)
vegetarian and vegan
gluten-free, lactose-free, fructose-free
without magnesium stearate and silicon dioxide
| Inhalt / Supplement Facts / Contenu / Información Nutricional / Contenuto | pro 3 Kapseln / per 3 Capsules / pour 3 Gélules / por 3 Cápsulas / per 3 Capsule / per 3 Capsules |
| --- | --- |
| Rosskastanien-Extrakt / Horse Chestnut Extract / Extrait de Marron d'Inde / Extracto de Castaño de Indias / Estratto di Ippocastano / Paardenkastanje Extract | 900mg |
| davon Aescin / of which Aescin / dont Aescine / de los cuales Escina / di cui Escina / waarvan Aescine | 180mg |
Content:
180 capsules
Recommended intake:
Adults 3 capsules daily in divided doses with meals and plenty of water.

Not suitable for pregnant and breastfeeding women.

Three capsules contain:
Horse chestnut extract 900mg
of which aescin 180mg

Ingredients: horse chestnut seed extract (Aesculus hippocastanum, contains 20% aescin), bulking agent microcrystalline cellulose, glazing agent hydroxypropylmethylcellulose (capsule shell), L-leucine, rice extract blend