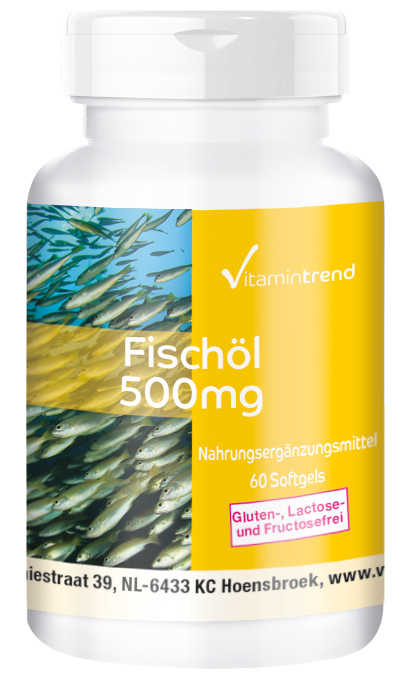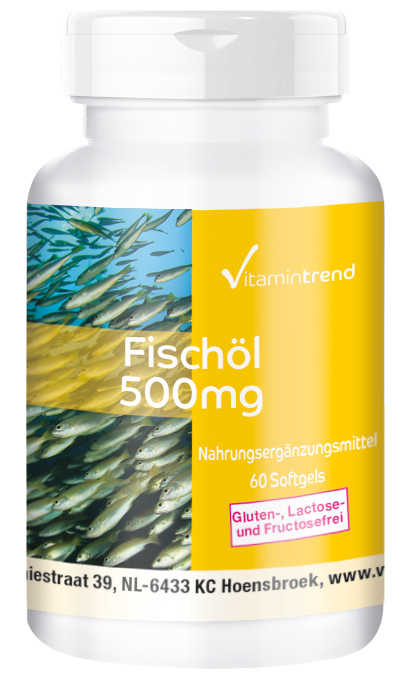 €6.95*
Content:
42
(€165.48* / 1000 g)
Product information "Fish oil 500mg"
Omega 3 - essential fatty acids
Fish oil is a good natural source of omega 3 fatty acids. These are essential for humans. Besides vitamins and minerals, polyunsaturated fatty acids are the most studied substances. Our body cannot produce them, so they must be supplied regularly as part of a healthy diet. Omega 3 fatty acids are the components of every single cell in the human body. DHA (docosahexaenoic acid) and EPA (eicosapentaenoic acid)
Two omega 3 fatty acids of great importance for the human organism are docosahexaenoic acid (DHA) and eicosapentaenoic acid (EPA). DHA helps maintain normal vision, plays a role in retinal function and is an important building block for the brain.
Omega 3 fatty acids in food
Omega 3 fats are found predominantly in fish. Varieties such as herring, salmon, mackerel or redfish contain high levels of EPA. Tuna, sprat and halibut contain large amounts of DHA. Unfortunately, nowadays omega 3 fatty acids are disappearing more and more from our diet. Vitamintrend Fish Oil - Quality Our fish oil is obtained from Peruvian anchovies from the South Pacific (whole fish). The crude oil is purified with activated carbon filters and meets all European limits in terms of environmental pollution such as heavy metals, dioxins, PCBs, etc. and is also microbiologically tested to ensure the quality.
Order the fish oil capsules from Vitamintrend
easy to swallow softgels

safe dosage with 500mg fish oil

150mg omega 3 fatty acids per softgel

18% eicosapentaenoic acid and 12% docosahexaenoic acid

with natural vitamin E to protect against oxidation

only one softgel per day

gluten, lactose and fructose free

without magnesium stearate and silicon dioxide
Content: 60 softgels
Adults 1 softgel daily with a meal and plenty of water One softgel contains / NRV*: Fish oil 500mg Omega 3 fatty acids 150mg of which Eicosapentaenoic acid (EPA) 90mg of which Docosahexaenoic acid (DHA) 60mg Vitamin E 10mg / 83% Nutrient reference values according to Regulation (EU) No 1169/2011
Ingredients: Fish oil (contains 18% docosahexaenoic acid and 12% eicosapentaenoic acid), glazing agent gelatine (bovine; capsule shell), humectant glycerine (capsule shell), D-Alpha-Tocopheryl acetate

| Inhalt / Supplement Facts / Contenu / Información Nutricional / Contenuto / Inhoud | pro Softgel/ per Softgel / par Softgel / por Softgel / per Softgel / per Softgel | %NRV* / %VNR* / %VRN* / %VNR* / %VRW* |
| --- | --- | --- |
| Fischöl / Fish oil /Huile de poisson / Aceite de pescado / Olio di pesce / Visolie | 500mg | - |
| Omega-3-Fettsäuren / Omega-3 fatty acids / Acides gras oméga-3 / Ácidos grasos omega-3 / Acidi grassi Omega-3 / Omega-3 vetzuren | 150mg | - |
| davon Eicosapentaensäure (EPA) / thereof eicosapentaenoic acid (EPA) / dont acide eicosapentaénoïque (EPA) / de los cuales del mismo ácido eicosapentaenoico (EPA) / di cui acido eicosapentaenoico (EPA) / daarvan eicosapentaeenzuur (EPA) | 90mg | - |
| davon Docosahexaensäure (DHA) / thereof docosahexaenoic acid (DHA) / dont acide docosahexaénoïque (DHA) / de los cuales el ácido docosahexaenoico (DHA) / di cui l'acido docosaesaenoico (DHA) / waarvan docosahexaeenzuur (DHA) | 60mg | - |
| Vitamin / Vitamine / Vitamina E | 10mg | 83 |
Applications:

Anti-Aging

, Joint & Bones

Compatibility:

gluten-free

, lactosefree

, no additives

Dosage form:

Softgels

Target group:

Seniors