Copper 2mg - vegan - 180 capsules - bulk pack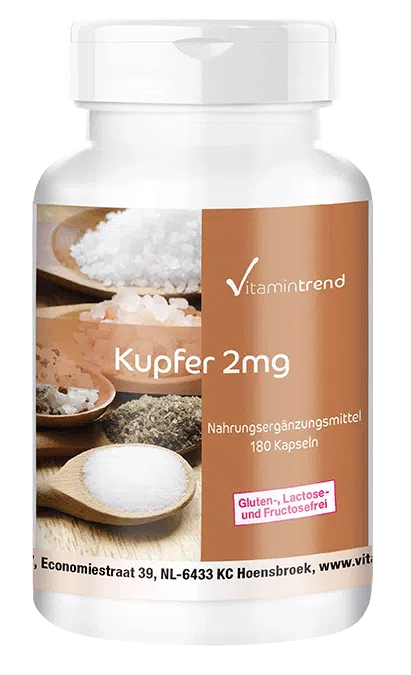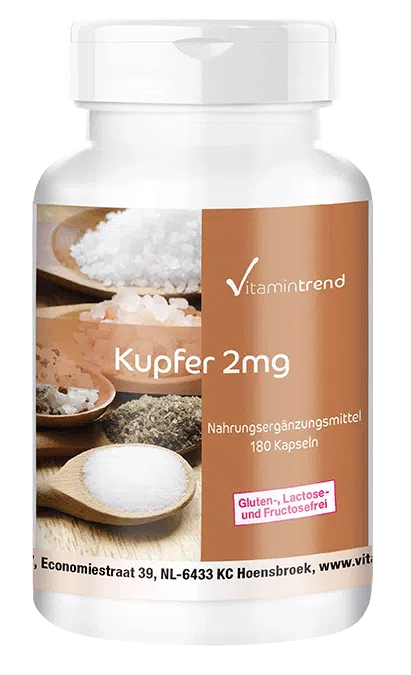 €14.95*
Content:
58
(€257.76* / 1000 g)
Product information "Copper 2mg - vegan - 180 capsules - bulk pack"
Copper is an essential trace element
The body cannot produce copper itself and is dependent on the supply through food or supplements. This food supplement by Vitamintrend provides you with high-dose copper chelate: one capsule contains 2mg copper, which is present as copper bisglycinate; a compound that has very good bioavailability.
Copper in the body
The body stores about 70 - 150mg of this trace element, most of which is present in the bones. The rest is distributed to the muscles, brain and liver.
As copper is part of numerous enzymes, it is involved in a variety of processes. For example, it is part of the enzyme superoxide dismutase (SOD) and as such can protect cells or cell membranes from damage caused by free radicals.
Copper also supports the function of the nervous system by participating in the formation of myelin as a component of so-called oxidoreductases. Myelin is essential for the transmission of impulses between nerves.
Copper is further involved in the formation of connective tissue and the endogenous pigment melanin, which is important for the pigmentation of hair and skin. The trace element additionally plays a role in energy metabolism and iron transport.
Food as a source of copper
Vegetable foods are the main suppliers of copper. Cashew nuts, soybeans, hazelnuts, oat flakes, artichokes, black salsify and rose hips are particularly rich in this trace element.
Animal foods that are rich in copper include pork liver, crab, oysters, Emmental and lobster.
Copper capsules by Vitamintrend
highly dosed
2mg copper per capsule and daily intake
good bioavailability
present as copper bisglycinate
for the connective tissue
contributes to the pigmentation of hair and skin
supports the nervous system
small capsules, easy to swallow
bulk pack for 6 months
vegetarian and vegan
gluten-free, lactose-free, fructose-free
without magnesium stearate and silicon dioxide
| Inhalt / Supplement Facts / Contenu / Información Nutricional / Contenuto | pro Kapsel / per Capsule / par Gélule / por Cápsula / per Capsula / per Capsula / per Capsule | %NRV* / %VNR* / %VRN* /%VNR* |
| --- | --- | --- |
| Kupfer / Copper / Cuivre / Cobre / Rame / Koper | 2mg | 200 |
| L-Leucin / L-Leucine / L-Leucina | 20mg | - |
Content: 180 capsules
Recommended intake: Adults 1 capsule daily with a meal and plenty of water.
Not suitable for pregnant and breastfeeding women.
One capsule contains / NRV*:
Copper 2mg / 200%
L-leucine 20mg
* NRV: Nutrient reference values according to Regulation (EU) No 1169/2011
Ingredients: microcrystalline cellulose, glazing agent hydroxypropylmethylcellulose (capsule shell), L-leucine, copper bisglycinate (contains 18.4% copper)