Carotenoid Complex - 120 capsules, antioxidants, vegan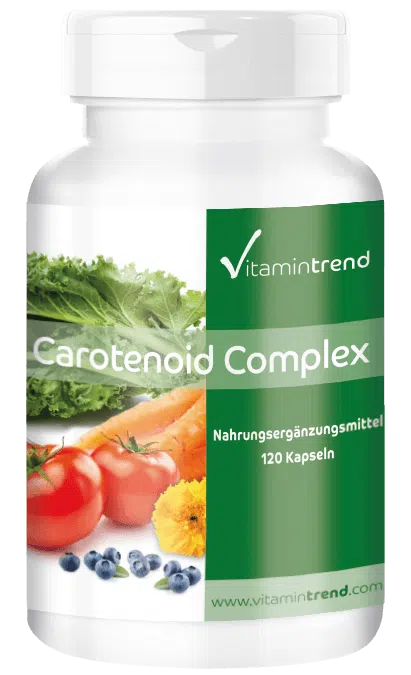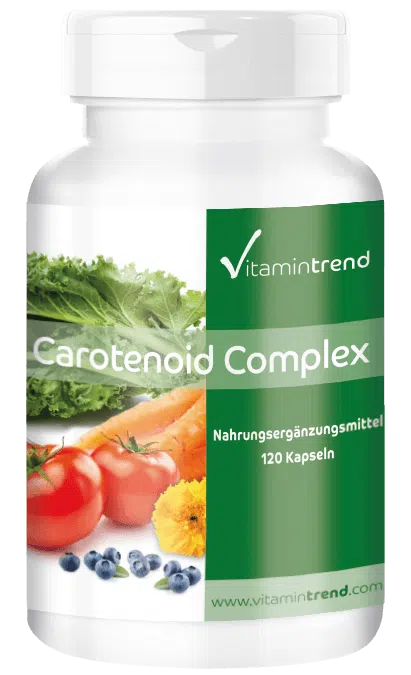 €21.95*
Content:
76
(€288.82* / 1000 g)
Product information "Carotenoid Complex - 120 capsules, antioxidants, vegan"
Carotenoid capsules: natural, orthomolecular carotenoid mix
Carotenoid complex capsules by Vitamintrend is a dietary supplement based on beta-carotene, marigold extract (lutein, zeaxanthin), tomato extract (lycopene), kale powder and blueberry powder.

Carotenoids are secondary plant substances. The most commonly knows is beta-carotene, which is the precursor of vitamin A. If required, the body is able to convert it to vitamin A in the liver. Vitamin A is vital for growth, the maintenance of a good vision, the support of the immune system and the protein synthesis. Carotenoids can be found in almost every type of fruit and vegetables and they give them their yellow-orange colour.
Importance of natural carotenoids
Vitamin A and its analogues are able to support the DNA function. In the human body, the carotenoids beta-carotene, lutein, zeaxanthin and lycopene act as antioxidants.

Beta-carotene can mostly be found in food and it contributes to the maintenance of healthy skin and mucous membranes. It supports the thymus gland and therefore our immune system. Beta-carotene is the most effective precursor of vitamin A. However, its conversion to vitamin A is limited. Along with vitamin A, it is able to protect the skin.

During cooking (or in the form of puree or juice), most of the vegetables release more beta-carotene, because the cells are broken down. While consuming beta-carotene or carotenoids in general, always make sure to consume these plant ingredients in a natural compound, because the absorption and effect in the body are better.
Lycopene from tomato extract
Lycopene belongs to the carotenoids without provitamin A activity. As an antioxidant, it is able to protect the cells against free radicals. The body cannot synthesise lycopene itself and is dependent on the intake through food. Good sources of lycopene are tomatoes, watermelons, guavas, rosehips and grapefruits.
The lycopene in the carotenoid capsules is derived from tomato extract, which is standardised to 5% lycopene.
Zeaxanthin and lutein from marigold extract
Zeaxanthin occurs in the marigold. It protects the flower against UV radiation and is an excellent antioxidant. The main carotenoid in marigold is lutein. Along with zeaxanthin, it can have positive properties for eye health.
In the food industry, lutein is often used as an additive, for example, for yellowing egg yolks.
The marigold extract in the carotenoid complex capsules is standardised to 20% lutein and 2.5% zeaxanthin.

Blueberry fruit powder and kale powder additionally support a good resorption and properties of the carotenoid in a natural compound. Furthermore, the anthocyanins in blueberries are able to support the well-being with the antioxidant power.
Kale has been known for its health-promoting effects since ancient times. It is rich in vitamins, minerals and trace elements (good source of vitamin A, K and C as well as calcium and iron). Its secondary plant ingredients such as flavonoids are regarded as antioxidant. Kale also contains mustard oil glycosides.


can activate the immune system
protects the eyes
tip for healthy skin
with standardised plant extracts
gluten-free and lactose-free
vegan, without magnesium stearate and silicon dioxide
| Inhalt / Supplement Facts / Contenu / Información Nutricional / Contenuto | pro 2 Kapseln / per 2 Capsules / par 2 Comprimé / pour 2 Gélules / por 2 Cápsulas / per 2 Capsule |
| --- | --- |
| Beta-Carotin / Beta-Carotene / Bêta-Carotène / Beta-Caroteno / Beta-Carotene / Bètacaroteen | 12mg |
| Tagetes-Extrakt / Marigold Extract / Extrait de Tagète / Extracto de Tagetes / Estratto di Tagetes / Tagetes Extract | 80mg |
| davon Lutein / of which Lutein / dont Lutéine / de los cuales Luteína / di cui Luteina / waarvan Luteïne | 16mg |
| davon Zeaxanthin / of which Zeaxanthin / dont Zéaxanthine / de los cuales Zeaxantina / di cui Zeaxantina / waarvan Zeaxanthine | 2mg |
| Tomaten-Extrakt / Tomato Extract / Extrait de Tomate / Extracto de Tomate / Estratto di Pomodoro / Tomatenextract | 120mg |
| davon Lycopin / of which Lycopene / dont Lycopène / dont Lycopène / de los cuales Licopeno / di cui Licopene / waarvan Lycopeen | 6mg |
| Grünkohl-Pulver / Kale Powder / Poudre de Chou Frisé / Col Crespa en Polvo / Cavolo in Polvere / Boerenkool Poeder | 400mg |
| Heidelbeer-Pulver / Blueberry Powder / Poudre de Myrtille / Arándano en Polvo / Mirtillo in Polvere / Blauwe Bosbessen Poeder | 400mg |
Content: 120 capsules

Recommended intake: Adults 2 capsules daily in divided doses with meals and plenty of water.

Two capsules contain:
Beta-carotene 12mg
Marigold extract 80mg
of which lutein 16mg
of which zeaxanthin 2mg
Tomato extract 120mg
of which lycopene 6mg
Kale powder 400mg
Blueberry powder 400mg

Ingredients: kale powder, blueberry fruit powder, glazing agent hydroxypropylmethylcellulose (capsule), tomato extract (contains 5% lycopene), marigold extract (contains 20% lutein and 2.5% zeaxanthin), beta-carotene, L-leucine, calcium salts of orthophosphoric acid