Calcium ascorbate 300mg 180 tablets buffered vitamin C, bulk pack for 6 months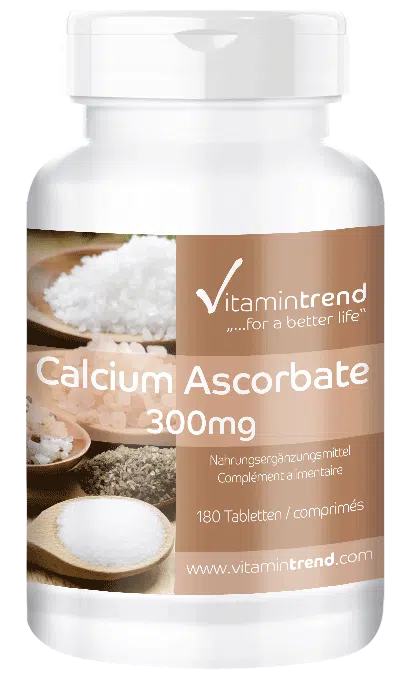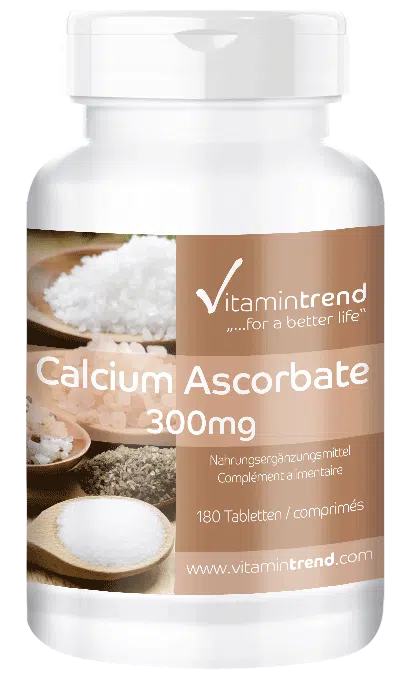 €9.95*
Content:
72
(€138.19* / 1000 g)
Product information "Calcium ascorbate 300mg 180 tablets buffered vitamin C, bulk pack for 6 months"
A classic anti-aging vitamin with importance for the immune system
The body needs vitamin C for the formation of bones, teeth, gums and blood. It can stimulate the immune system and is particularly popular in winter and in the dingy autumn season. As an antioxidant, the vitamin can deactivate free radicals and contribute to cell protection.
Vitamin C promotes the absorption of iron in the body and is involved in the synthesis of carnitine and collagen. The hydroxylation of proline to hydroxyproline (a component of collagen) would not be possible without vitamin C. Collagen is important for healthy and efficient joints, tight connective tissue and smooth skin.
Vitamin C is also involved in other parts of the organism. These include the normal function of the nervous system, normal psychological function and the reduction of tiredness and fatigue.
In addition, vitamin C is able to regenerate used vitamin E.
Good reasons for calcium ascorbate tablets by Vitamintrend
gentle on the stomach, as this vitamin C is present in buffered form as calcium ascorbate
can activate the immune system
for firm connective tissue
without magnesium stearate and silicon dioxide
gluten-free, lactose-free, fructose-free, vegan
bulk pack for half a year
| Inhalt / Supplement Facts / Contenu / Información Nutricional / Contenuto / Inhoud | pro Tablette / per Tablet / por Comprimé / por Comprimido / per Compressa / pro Tablet | %NRV* / %VNR* / %VRN* / %VNR* / %VRW* |
| --- | --- | --- |
| Vitamin C / Vitamine C / Vitamina C | 240mg | 300 |

Content: 180 tablets
Recommended intake: Adults 1 tablet daily with plenty of water.
One tablet contains / NRV*:
Vitamin C 240mg / 300%.
*NRV: Nutrient reference values as per EU regulation
Ingredients: Calcium ascorbate, bulking agent microcrystalline cellulose