Betaine HCL 2600mg daily intake - 180 capsules, vegan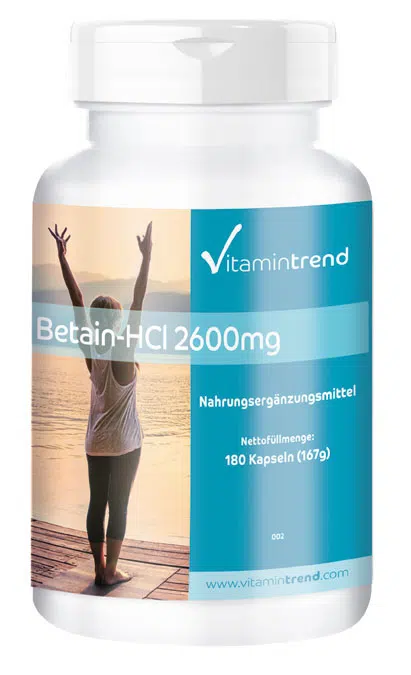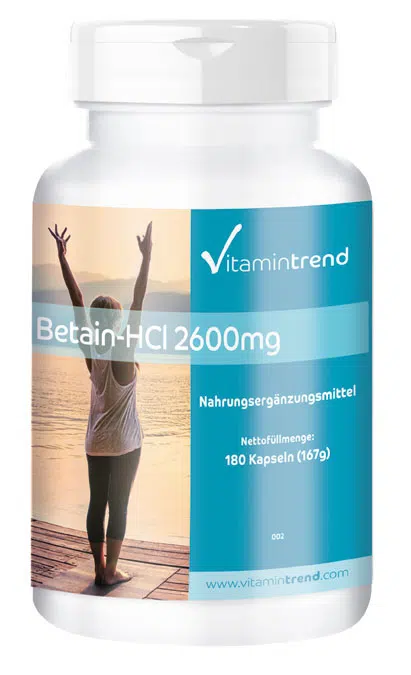 €18.95*
Content:
167
(€113.47* / 1000 g)
Product information "Betaine HCL 2600mg daily intake - 180 capsules, vegan"
Betaine hydrochloride: interesting vitaminoid containing hydrochloric acid
The name betaine is derived from the Latin name of the sugar beet: Beta vulgaris, in which betaine can be found. The substance is on oxidation product of choline. Good sources are quinoa, sugar beets, beetroot, rye, spinach, wheat, potatoes and beef.
The vitamin-like substance is closely related to the amino acid glycine, from which it is a derivative. The conventional synonym for betaine makes it clear: trimethylglycine. This name also tells us that betaine contains three methyl groups.
Function of betaine in the body
Betaine is involved
in the biosynthesis of creatine, methionine, lecithin and carnitine
. Additionally, it works closely together with folic acid, vitamin B6 and vitamin B12.
The most important property of betaine is
its ability to break down homocysteine
. Homocysteine is a non-proteinogenic amino acid (component of proteins). Homocysteine occurs in the metabolism by demethylation of the essential amino acid methionine. By means of methylation and betaine it can be converted to methionine.
S-adenosylmethionine (SAMe) is created as a by-product during this process. All that's left of betaine is dimethylglycine, which becomes pangamic acid.
Good reasons to buy betaine capsules
650mg betaine HCl per capsule - 2600mg daily intake (4 capsules)
is able to break down homocysteine
involved in the formation of SAMe and pangamic acid
involved in the biosynthesis of creatine, methionine, lecithin and carnitine
gluten-free, lactose-free, fructose-free
vegetarian and vegan
without magnesium stearate and silicon dioxide
| Inhalt / Supplement Facts / Contenu / Información Nutricional / Contenuto / Inhoud | pro 4 Kapseln / per 4 Capsules / pour 4 Gélules / por 4 Cápsulas / per 4 Capsule / per 4 Capsules |
| --- | --- |
| Betain HCL / Betaine HCL / Bétaïne HCI / Betaina-HCL / Betaína HCL / Betaine HCL | 2600mg |
| davon Betain / of which Betaine / dont Bétaïne / de los cuales Betaina / di cui Betaina / waarvan Betaine | 1983mg |
Content:
180 capsules
Recommended intake:
Adults 4 capsules daily in divided doses with meals and plenty of water.
Four capsules contain:
Betaine HCl 2600mg
of which betaine 1983mg
Ingredients:
betaine hydrochloride,glazing agent hydroxypropylmethylcellulose (capsule shell), bulking agent microcrystalline cellulose, L-leucine, rice extract mixture