Alfalfa 1500mg daily intake 360 tablets bulk pack for 120 days, pure substance, vegan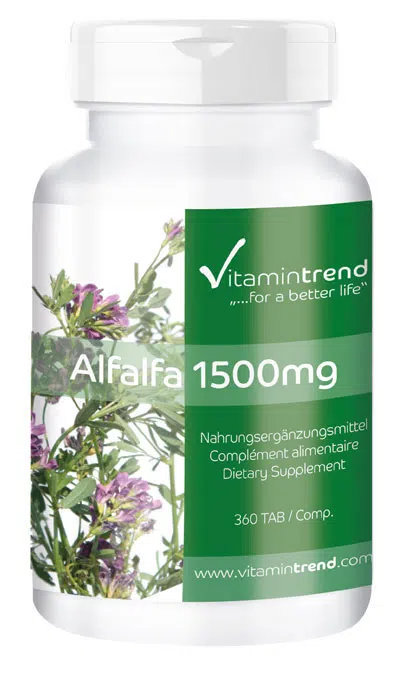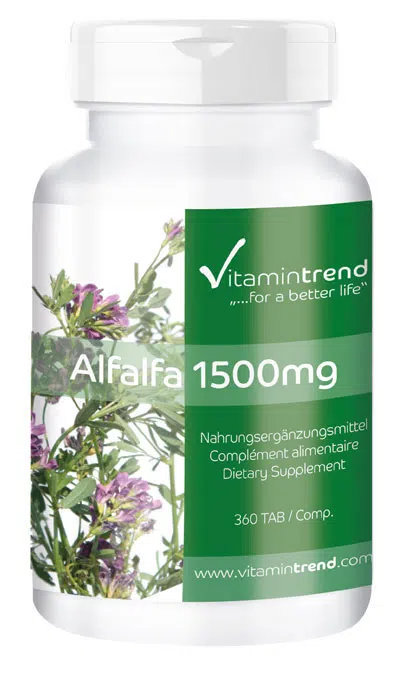 €17.95*
Content:
216
(€83.10* / 1000 g)
Product information "Alfalfa 1500mg daily intake 360 tablets bulk pack for 120 days, pure substance, vegan"
Alfalfa (alfalfa lucerne): "Father of all foods"
The name Alfalfa is the Spanish form of the Arabic al-fac-facah, which means father of all food. The Arabs fed their horses Alfalfa and claimed that it makes the animals fast and strong.
Alfalfa is known as a remedy for general strengthening. The plant has invigorating properties.
Alfalfa can have positive properties for skin, hair, nails, cartilage and bones due to the contained vitamins, minerals, amino acids and chlorophyll. It is also known that alfalfa contains phytoestrogens.
Good reasons to buy Alfalfa tablets
general strengthening agent
can activate the immune system
pure substance
gluten-free, lactose-free, vegan
without magnesium stearate and silicon dioxide
| Inhalt / Supplement Facts / Contenu / Información Nutricional / Contenuto / Inhoud | Amount Per Serving |
| --- | --- |
| Alfalfa Dry Extract 4:1 | 375mg |
| Equivalent to Whole Herb | 1500mg |

Content: 360 Tablets
Recommended intake: Adults 3 tablets daily in divided doses with meals and plenty of water.
Three tablets contain:
Alfalfa extract 4:1 375mg
equivalent to alfalfa 1500mg
Ingredients: bulking agent microcrystalline cellulose, alfalfa dry extract 4:1 (Medicago sativa)