L-methionine 1500mg daily intake - 240 capsules, vegan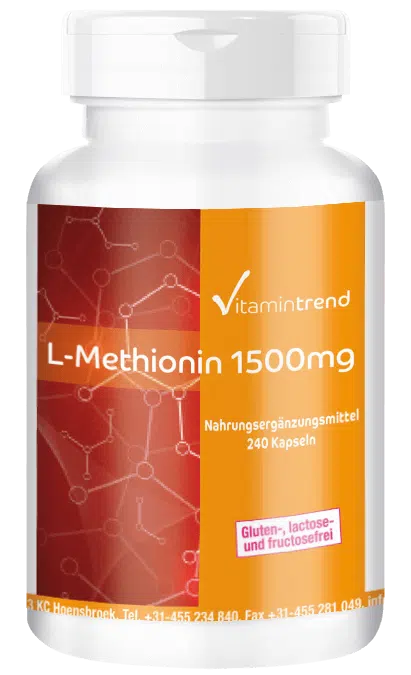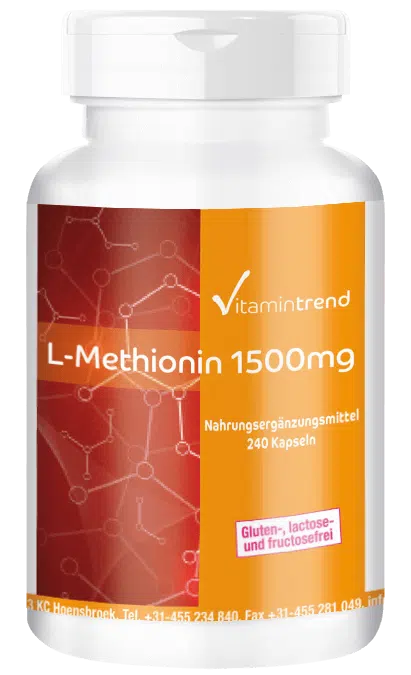 €27.95*
Content:
184
(€151.90* / 1000 g)
Product information "L-methionine 1500mg daily intake - 240 capsules, vegan"
L-methionine: essential amino acid in its biologically active L form
Methionine belongs to the sulphurous amino acids, which are used as a component for proteins (proteinogenic amino acids). It is essential for the human organism. That is why it has to be taken in through food, because the body is not able to synthesise methionine itself. In general, protein-rich foods contain high amounts of L-methionine. Good sources are Brazil nuts, salmon, sesame seeds, meat, poultry and eggs.
The amino acid methionine has been known for a long time. It was discovered in 1922 and is well researched.
The function of L-methionine in the body
L-methionine is a precursor off L-cysteine and L-taurine and essential for the synthesis of these substances. Furthermore, the amino acid is a component of further proteins and hormones such as L-carnitine, adrenaline, choline and melatonin, for example.
Vegan methionine capsules
In the past, amino acids were derived from animal organisms. However, methionine by Vitamintrend is produced synthetically and is vegan. The production of methionine results in so-called DL-methionine, also called racemate. It is a mixture, which consists of equal amounts of natural L-methionine and the very similar D-methionine, which cannot be found in nature. The human body is only able to use L-methionine to build up muscles. That is why this product only contains pure biologically active L-methionine.
Good reasons to buy L-methionine capsules
bulk pack for 80 days
500mg L-methionine per capsule - 1500mg daily intake (3 capsules)
the biologically active L form
gluten-free, lactose-free, fructose-free
vegetarian and vegan
without magnesium stearate and silicon dioxide
| Inhalt / Supplement Facts / Contenu / Información Nutricional / Contenuto | pro 3 Kapseln / per 3 Capsules / pour 3 Gélules / por 3 Cápsulas / per 3 Capsule / per 3 Capsules |
| --- | --- |
| L-Methionin / L-Methionine / L-Méthionine / L-Metionina | 1500mg |
Content: 240 capsules

Recommended intake:
Adults 3 capsules daily in divided doses with meals and plenty of water.

Three capsules contain:
L-methionine 1500mg

Ingredients: L-methionine, bulking agent microcrystalline cellulose, glazing agent hydroxypropylmethylcellulose (capsule), L-leucine