Apple cider vinegar 2000mg - high-dose - vegan - 240 Capsules - bulk pack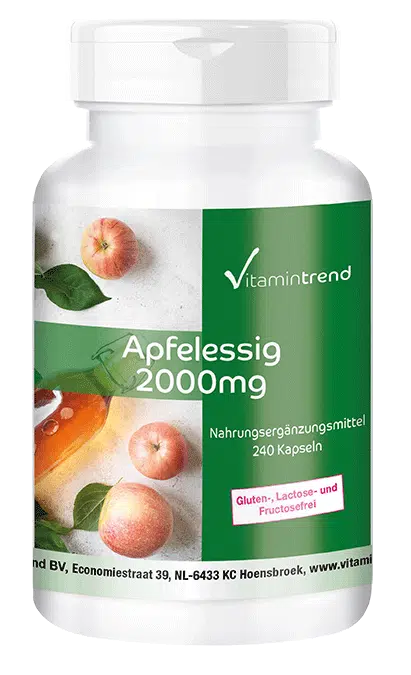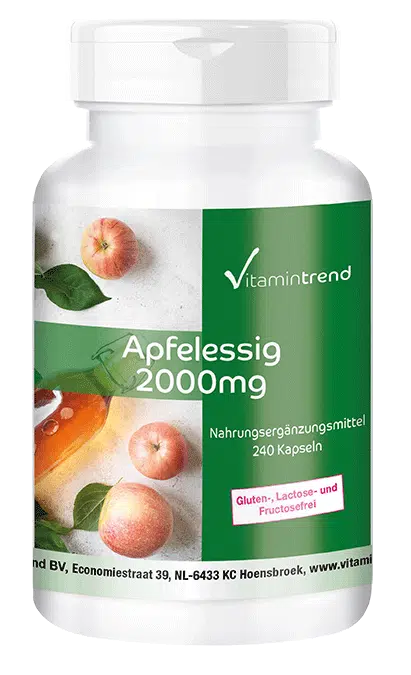 €22.95*
Content:
190
(€120.79* / 1000 g)
Product information "Apple cider vinegar 2000mg - high-dose - vegan - 240 Capsules - bulk pack"
High-dose apple vinegar capsules
In the years 2010 to 2019, apples were the most popular fruit variety in Germany, and for good reason: hardly any other type of fruit can be used in so many ways. In addition, apples are among the top 5 most nutritious fruit varieties, along with kiwis, blueberries, strawberries and oranges.
One possible use for apples is apple cider vinegar. This food supplement provides high-dose apple cider vinegar with 500mg per capsule and 2000mg per daily dose. In capsule form, consumption is particularly pleasant and can be gentle on both the teeth and the stomach.
Healthy ingredients of apple cider vinegar
Although the vinegar made from apples does not have by far the same amount of nutrients as the apples themselves, it still contains small amounts and the fermentation process even adds nutrients.
Besides the organic acids acetic acid and citric acid, enzymes, amino acids, flavonoids and tannin, a tannic acid, can also be found. Furthermore, apple cider vinegar contains B vitamins, vitamin E, beta-carotene, and vitamin C as well as minerals (e.g. potassium, calcium, magnesium and sodium) and trace elements (e.g. iron, copper, zinc and boron).
This is how apple vinegar is made
In order to produce cider vinegar, you first need apple cider. This is obtained from the juice of acidic apples by alcoholic fermentation.
Acetic acid bacteria (Acetobacteraceae) are then added to the cider. Acetic acid bacteria are known to convert ethanol into acetic acid, whereby they themselves produce energy.
Apple cider vinegar capsules by Vitamintrend
highly dosed
500mg apple cider vinegar per capsule
2000mg apple cider vinegar per daily intake
pleasant intake
gentle on the teeth and stomach
bulk pack for 2 months
vegetarian and vegan
gluten-free, lactose-free, fructose-free
without magnesium stearate and silicon dioxide
| Inhalt / Supplement Facts / Contenu / Información Nutricional / Contenuto | pro 4 Kapseln / per 4 Capsules / pour 4 Gélules / por 4 Cápsulas / per 4 Capsule / per 4 Capsules |
| --- | --- |
| Apfelessig-Pulver / Apple Cider Vinegar Powder / Vinaigre de Cidre en Poudre / Vinagre de Manzana en Polvo / Aceto di Mele in Polvere / Appelazijn Poeder | 2000mg |
| L-Leucin / L-Leucine / L-Leucina | 200mg |
Content: 240 capsules
Recommended intake: Adults 4 capsules daily in divided doses with meals and plenty of water.
Not suitable for pregnant and breastfeeding women.
Four capsules contain:
Apple cider vinegar powder 2000mg
L-leucine 200mg
Ingredients: apple cider vinegar powder, glazing agent hydroxypropylmethylcellulose (capsule shell), bulking agent microcrystalline cellulose, L-leucine, cottonseed oil, rice extract blend