Vitamin D3 drops 1000 I.U. - 100ml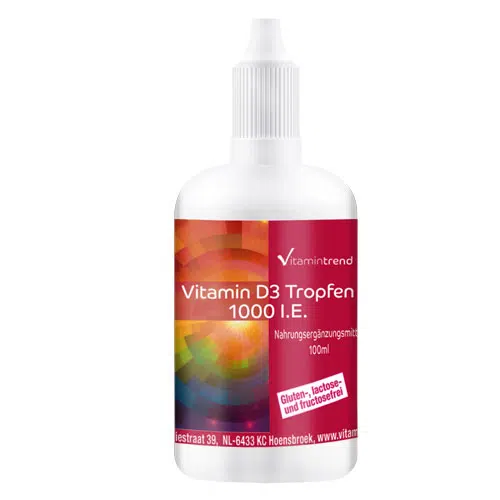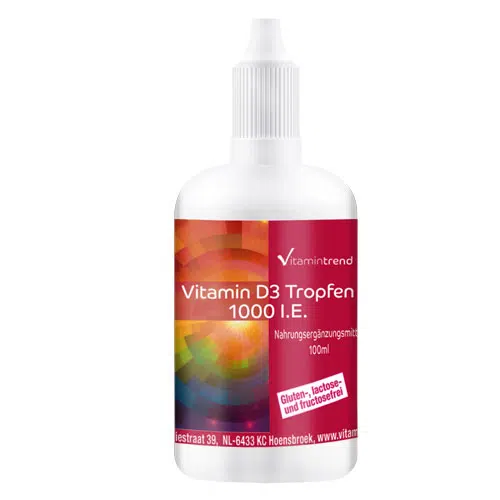 €8.95*
Content:
211
(€42.42* / 1000 g)
Product information "Vitamin D3 drops 1000 I.U. - 100ml "
Vitamin D3 oil: very efficient with over 3300 drops per bottle
The fat-soluble cholecalciferol is a unique vitamin, as it is the only one that can be produced by the body itself.
However, this only happens with the help of UV-B radiation when it hits the skin directly. 7-Dehydrocholesterol, a precursor of cholesterol, is converted into the so-called previtamin D3, which in turn is converted into vitamin D3 and in further steps into the hormone calcitriol, the physiologically active form of D3. For this reason and because it can be synthesized by the body itself, vitamin D is more likely to be classified as a secosteroid than as a vitamin.
Vitamin D in food
Compared to the amount of vitamin D3 that the body can produce under optimal conditions, food contains only small amounts of vitamin D3. It is found primarily in fatty fish, offal, eggs, and dairy products. Ergosterol, which is the precursor (provitamin) of vitamin D2, is contained in plants such as mushrooms.
In order to ensure a sufficient supply, margarine enriched with vitamin D is offered on the market.
Vitamin D supplements - for whomµ
Supplementation with vitamin D3 is recommended especially for people aged 65 and over, as the skin's ability to produce the vitamin decreases. Also, people, who are for different reasons only rarely or not at all outside, should have their vitamin D level tested and if necessary fall back on appropriately dosed food supplements.
Other reasons for a vitamin D deficiency may include resorption disorders, illness, use of sunscreen products, the time of year or wearing long-sleeved clothing.
Function of D3
The following health claims have been authorized by EFSA (European Food Safety Authority):
Vitamin D contributes to normal resorption/utilization of calcium and phosphorus
Vitamin D contributes to normal blood calcium levels
Vitamin D helps maintain normal bones and teeth
Vitamin D helps maintain normal muscle function
Vitamin D contributes to the maintenance of a normal function of the immune system
Vitamin D plays a role in the process of cell division
Good reasons to buy vitamin D3 oil by Vitamintrend
highly dosed with 1000 I.U. (25μg) per drop
derived from wool fat (lanolin)
more than 3300 drops per bottle
easy to dose
gluten-free, lactose-free, fructose-free
without magnesium stearate and silicon dioxide
| Inhalt / Supplement Facts / Contenu / Información Nutricional / Contenuto | pro Tropfen (30μl) / per Drop (30μl) / par goutte (30μl) / por gota (30μl) / per goccia (30μl) / per druppel (30μl) | %NRV* / %VNR* / %VRN* /%VNR* |
| --- | --- | --- |
| Vitamin D3 / Vitamine D3 / Vitamina D3 | 25μg (1000 I.E.) | 500 |
Content: 100ml

Recommended intake: Adults apply 1 drop daily to the tongue.

One drop contains / NRV*:
Vitamin D3 25μg (1000 I.U.) / 500%

*NRV: nutrient reference values according to Regulation (EU) No 1169/2011

Ingredients: MCT oil (refined vegetable oil from palm kernel, coconut and rapeseed), cholecalciferol


| | |
| --- | --- |
| Applications: | Anti-Aging |
| Dosage form: | Drops |
| Target group: | Women |
| Vital substances: | Vitamins & Vitaminoids |