Vitamin B1 100mg Thiamine - 180 tablets Vegan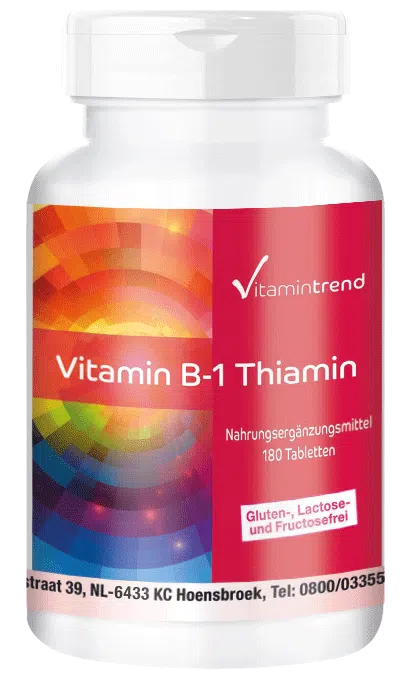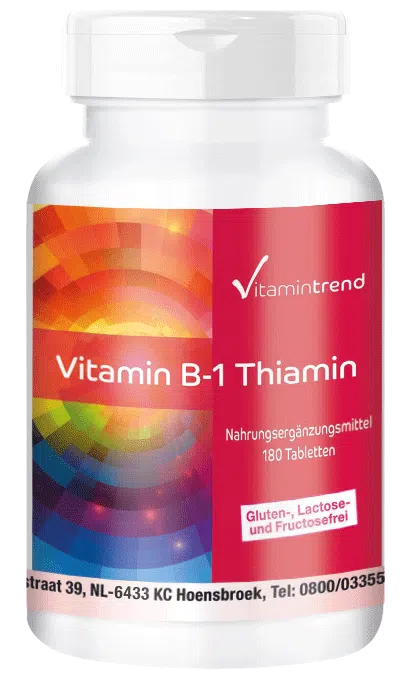 €10.95*
Content:
62
(€176.61* / 1000 g)
Product information "Vitamin B1 100mg Thiamine - 180 tablets Vegan"
Vitamin B1 tablets: nerve vitamin with importance for carbohydrate metabolism
Thiamine is mainly needed as a coenzyme for the carbohydrate metabolism, in particular to obtain energy for the organism from the utilisation of sugar.
In addition, vitamin B1 is used to conduct nerve impulses, which leads to optimal communication between the nerves. Vitamin B1 is an effective vitamin as a nerve protection agent. Due to this positive effect on the nerves, vitamin B1 is also known as the nerve vitamin.
Those who frequently drink coffee, tea or alcohol, have a one-sided nutrition and hardly eat unpeeled rice, legumes and wholemeal products, exercise excessively, suffer from stress, take the contraceptive pill or various medications should have their vitamin B1 status checked. The requirement depends on energy consumption: the body needs more thiamine in the case of long-term high physical exertion.
nerve vitamin
important for the breakdown of carbohydrates
gluten-free, lactose-free, fructose-free, vegan
vegan, without magnesium stearate and silicon dioxide
bulk pack for half a year
| Inhalt / Supplement Facts / Contenu / Información Nutricional / Contenuto / Inhoud | pro Tablette / per Tablet / por Comprimé / por Comprimido / per Compressa / pro Tablet | %NRV* / %VNR* / %VRN* / %VNR* / %VRW* |
| --- | --- | --- |
| Vitamin B-1 / Vitamine B-1 / Vitamina B-1 | 100mg | 9090 |
Content: 180 tablets
Recommended intake: Adults 1 tablet daily with a meal and plenty of water.
One tablet contains / NRV*:
Vitamin B1 100mg / 9090%
* NRV: Nutrient reference values according to Regulation (EU) No 1169/2011
Ingredients: bulking agent microcrystalline cellulose, thiamine mononitrate, calcium salts of orthophosphoric acid