Potassium Magnesium Citrate - vegan - 240 Capsules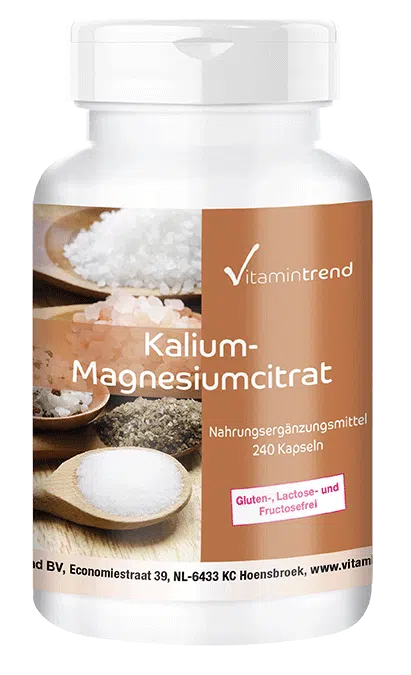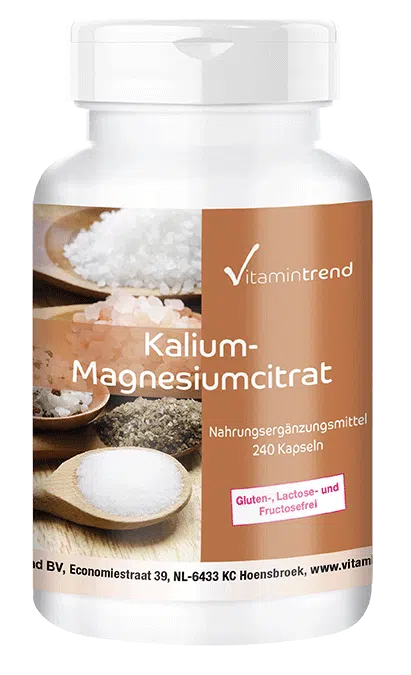 €23.95*
Content:
307
(€78.01* / 1000 g)
Product information "Potassium Magnesium Citrate - vegan - 240 Capsules"
Magnesium citrate combined with potassium citrate
Minerals are among the essential micronutrients that must be supplied to the body through food or supplements, as the body cannot produce them itself.
This food supplement by Vitamintrend can help to meet the daily requirement of magnesium and potassium. Four capsules a day provide you with 900mg potassium and 240mg magnesium. Both minerals are available in citrate form for good absorption and bioavailability.
Potassium for the blood pressure
The statement that potassium helps to maintain normal blood pressure has been scientifically proven for a few decades. In the body, the mineral potassium is the antagonist of sodium, which is known to have a negative effect on blood pressure.
A sufficient supply of potassium ensures that more sodium is excreted via the kidneys, which promotes normal blood pressure.
Potassium also plays an important role in muscle function. Together with magnesium, it is involved in regulating the contraction and relaxation of muscles. These include the skeletal muscles, the vascular muscles, the muscles in the digestive tract, the bladder and urinary tract, and the heart muscle.
Potassium is also an important nutrient for the nervous system, where, among other things, it is responsible for ensuring that nerve impulses are reliably transmitted, e.g. to the muscles.
Magnesium deficiencyµ Not with us!
Magnesium is one of the minerals that are quickly used up or excreted in the organism. Especially during stress or other psychological strain, for athletes or for pregnant and breastfeeding women, there is, therefore, an increased need. In people with intestinal diseases, the absorption of the mineral is also restricted. An insufficient magnesium supply through food can therefore lead to a magnesium deficiency.
A daily intake of 300 to 400mg from all sources, i.e. mineral water, food, and supplements, is recommended to compensate for and prevent a magnesium deficiency.
Magnesium for leg cramps
Everybody knows the painful muscle cramps in the calves that preferably wake you up at night. Most people automatically take magnesium supplements to make up for a possible deficiency. Although a lack of calcium and potassium can also cause muscle cramps, taking magnesium is often the right choice.
Magnesium has one thing in common with potassium: it plays an important role in the nervous system and in the functioning of the muscles. It also maintains a normal electrolyte balance, which includes potassium.
Furthermore, magnesium is essential for mental function and, as an important component of bones, is responsible for normal bones and teeth. Protein synthesis and cell division also depend on an adequate supply of magnesium.
It is also interesting to note that magnesium can reduce tiredness, which is also due to its involvement in the body's energy metabolism.
Potassium and magnesium in foods
Both minerals can be found in cereal products such as oatmeal and whole-grain products as well as in legumes such as soybeans, white beans, and lentils.
Good sources of potassium are also various vegetables and fruits: potatoes, spinach, kale, bananas, blackcurrants and honeydew melons contain the highest amounts. Animal sources of potassium are mackerel, trout, and goose meat. Those with a sweet tooth can also enjoy the fact that milk chocolate, cocoa powder, and walnuts are rich in potassium.
Magnesium is likewise found in plant and animal foods. The highest quantities are found in bananas, raspberries, spinach, kohlrabi, cashew nuts, almonds, crabs, carp, pork, and chicken.
Magnesium supplement with potassium
two essential minerals combined
high bioavailability due to citrate form
for magnesium deficiency
for the nervous system
promotes relaxed muscles
supports normal blood pressure
for mental balance
monthly supply
vegetarian and vegan
gluten-free, lactose-free, fructose-free
without magnesium stearate and silicon dioxide
| Inhalt / Supplement Facts / Contenu / Información Nutricional / Contenuto | pro 4 Kapseln / per 4 Capsules / pour 4 Gélules / por 4 Cápsulas / per Capsula / per 4 Capsule / per 4 Capsules | %NRV* / %VNR* / %VRN* /%VNR* |
| --- | --- | --- |
| Kalium / Potassium / Potasio / Potassio | 900mg | 45 |
| Magnesium / Magnésium / Magnesio / Magnesium | 240mg | 64 |
| L-Leucin / L-Leucine / L-Leucina | 120mg | - |
Content: 240 capsules
Recommended intake: Adults 4 capsules daily in divided doses with meals and plenty of water.
Not suitable for pregnant and breastfeeding women.
Four capsules contain / NRV*:
Potassium 900mg / 45%
Magnesium 240mg / 64%
L-leucine 120mg
*NRV: Nutrient reference values according to Regulation (EU) No 1169/2011
Ingredients: potassium citrate (contains 36% potassium), magnesium citrate (contains 16% magnesium), glazing agent hydroxypropylmethylcellulose (capsule shell), bulking agent microcrystalline cellulose, cottonseed oil, L-leucine, rice extract blend