Beta-Glucan - high-dose - 180 Tablets - bulk pack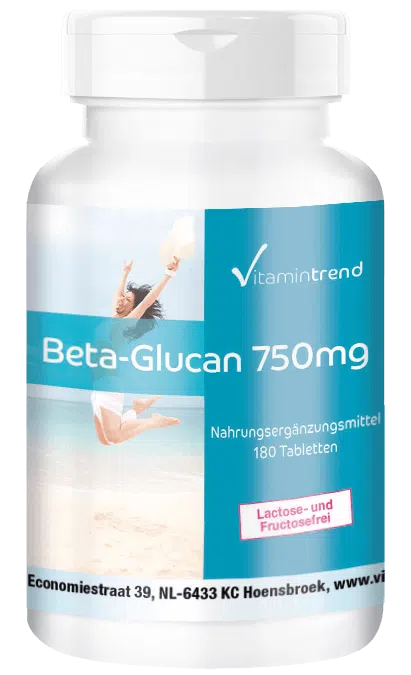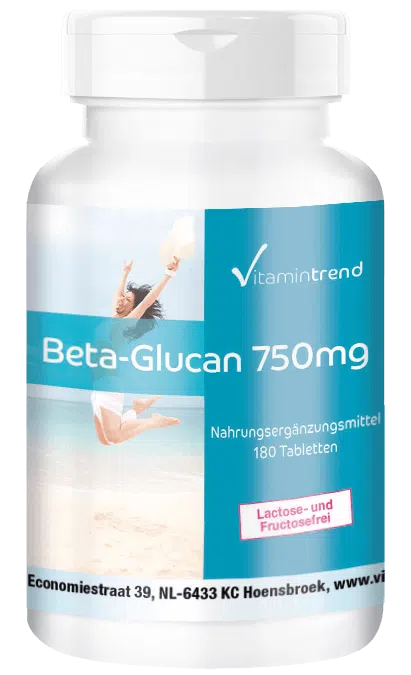 €26.95*
Content:
216
(€124.77* / 1000 g)
Product information "Beta-Glucan - high-dose - 180 Tablets - bulk pack"
Beta-glucan supplement
This food supplement by Vitamintrend provides you with high-dose beta-glucan containing 70% polysaccharides from oats. One tablet contains 750mg beta-glucan and 525mg polysaccharides. The daily dose is 4 tablets, which is equivalent to 3000mg beta-glucan and 2100mg polysaccharides.
Lowering cholesterol with beta-glucan
Scientific studies and the EFSA (European Food Safety Authority) confirm that beta-glucan is able to lower the level of LDL cholesterol and maintain a normal cholesterol level in the blood, which in turn has numerous positive effects for the cardiovascular system.
To achieve the cholesterol-lowering effect, 3g beta-glucan from oats, oat bran, barley or barley bran should be consumed daily.
What is beta-glucanµ
Beta-glucans, which belong to the soluble dietary fibers, is a compound of several beta-D-glucose polysaccharides (multiple sugars). They occur naturally in the cell walls of fungi, yeasts, bacteria, and grains such as oats and barley, but algae can also contain beta-glucans.
Beta-glucans can occur in different forms depending on how they are glycosidically linked and from which source they come. Beta-glucans from oats and other cereals are β-1,3- and β-1,4-glycosidically linked, while beta-glucans from yeast are β-1,3- and β-1,6-glycosidically linked. The β-glycosidic bonds are said to have different properties.
Beta-glucan tablets by Vitamintrend
highly dosed
750mg beta-glucan per tablet
standardized to 70% polysaccharides
3g beta-glucan per daily intake
contributes to a normal cholesterol level
lowers LDL cholesterol
bulk pack with 180 tablets
lactose-free, fructose-free
vegetarian and vegan
without magnesium stearate and silicon dioxide
| Inhalt / Supplement Facts / Contenu / Información Nutricional / Contenuto | pro 4 Tabletten / per 4 Tablets / pour 4 Comprimés / por 4 Comprimidos / per 4 Compresse / per 4 Tabletten |
| --- | --- |
| Beta-Glucan / Bêta-Glucane / Beta-Glucano / Bèta-Glucaan | 3000mg |
| davon Polysaccharide / of which Polysaccharides / dont Polysaccharides / de los cuales Polisacáridos / di cui Polisaccaridi / waarvan Polysachariden | 2100mg |
Content: 180 tablets
Recommended intake: Adults 4 tablets daily in divided doses with meals and plenty of water.
Not suitable for pregnant and breastfeeding women.
Four tablets contain:
Beta-glucan 3000mg
of which polysaccharides 2100mg
Ingredients: beta-glucan (contains 70% polysaccharides from oats), bulking agent microcrystalline cellulose